Looking for some Halloween fun?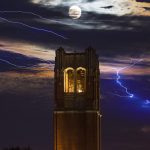 If you're looking for Halloween activities to check out over the weekend, UF has a few tricks up its sleeve.
Stop by Museum Road across from Lake Alice to watch more than 450,000 bats fly into the night from one of UF's bat houses. The bats normally emerge 15 to 20 minutes after sunset. To learn more, check out this From Florida podcast.
Participate in a costume contest, enjoy sweet treats and more at Lake Wauburg's Boo-Lay Spectacular, happening this Sunday at 2 p.m.
Did you know UF is ranked No. 18 on the 50 Most Haunted U.S. Campuses list? Read this UF Advancement article to learn about the ghosts that haunt Norman Hall, Beaty Towers and Thomas Hall.