Showing appreciation for our custodians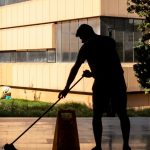 UF Facilities Services has dedicated this week, Oct. 4–8, to recognize and celebrate UF's Building Services team members for maintaining a safe and healthy environment where students can learn, employees can work and visitors can feel welcome.
As the world continues to battle COVID-19, it is critical to recognize the hard work that each member of the Building Services team performs. Throughout the week, departments are encouraged to consider making a special effort to thank these individuals who perform physically demanding work that helps keep our facilities safe, contributes to important first impressions and fosters pride among the UF community.

If you have questions about Custodian Appreciation Week celebration, please contact Building Services at (352) 846-1622.