June 3, 2020
UF seeks input on reopening plan
The Florida Board of Governors, the State University System's governing board, has approved a broad blueprint for reopening the state's public universities this fall. The blueprint stresses as a foundational priority the health and welfare of students, faculty, staff and others while giving individual universities flexibility in their reopening rules, procedures and guidelines. Under the blueprint, universities are developing their own reopening plans.
The University of Florida's draft plan, which can be viewed here, outlines how UF will strive to create a safer, healthier campus environment and continue its research and education missions using screening and testing, enhanced protective measures, comprehensive communications and other tools.
If you have input on the plan, you are invited to send your comments to reopen@ufl.edu.
The UF Board of Trustees will discuss the draft plan during its meeting on Thursday, June 4, and the plan will be submitted to the Board of Governors by the June 12 deadline. The plan is expected to continue to evolve as circumstances surrounding COVID-19 evolve globally and locally.
---
UF Health Screen, Test & Protect website provides information, answers to questions
UF Health has launched a new website designed to provide information for faculty, staff, students and our community about the Screen, Test & Protect initiative. A science- and data-driven program designed to minimize the spread of the novel coronavirus, the effort is being guided by the world-class physicians and epidemiologists at UF Health, with everyone's health and safety as the top priority.
You can learn more about UF Health Screen, Test & Protect by visiting the new website and viewing this video.
---
UF Research announces Stage 2 of Resumption Plan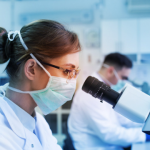 Earlier this week, the UF Office of Research announced it was progressing to Stage 2 of its Resumption Plan. For many, the most significant change will be an increase in the allowed density of people per laboratory from 1 person per 500 square-feet. to 1 person per 250 square-feet.
Resumption of diagnostic, screening and interventional studies in human subject research activities also will expand. Specific guidance for human subject researchers can be found at the Clinical and Translational Science Institutes' page on resuming health-related human subjects research during COVID-19.
Visit the Office of Research website to learn more.
---
UF Environmental Health & Safety expands resources to support resumption of research activities
UF Environmental Health & Safety (EH&S) has expanded the resources available to support researchers through the resumption of their activities. Among the many resources provided are:
In addition, EH&S has provided a video of the safety training presentation below. Visit the EH&S website for more information.