May 20, 2020
President Fuchs responds to Board of Governors announcement of fall reopening
On Monday, the State University System of Florida released an announcement that Board of Governors Chair Syd Kitson has directed State University System Chancellor Marshall Criser III to develop guidelines to present to the Board of Governors at a public meeting on May 28, 2020. Universities will present their individual plans, based on these guidelines, to the Board of Governors at a board meeting on June 23.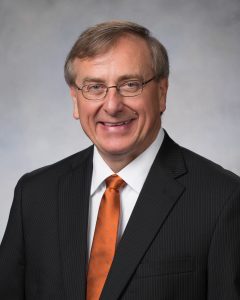 Yesterday, President Fuchs released this statement responding to the announcement:
I embrace yesterday's announcement from the Board of Governors that the University of Florida and the rest of the State University System will reopen in the fall. The blueprint and timeline from Board of Governors' chair Syd Kitson and State University System Chancellor Marshall Criser III fit perfectly with the work happening at the University of Florida, where the process of returning our employees to the workplace is already underway.
UF's institutional recovery teams have been thoughtfully and carefully working out the details to welcome students back, with the health and safety of our students, faculty and staff at the forefront of every decision we make. Their work will form the backbone of the plan that we present to the Board of Governors on June 23, and that will enable students to return to UF.
Guided by the experts at UF Health, we are confident that we can implement smart, comprehensive practices that will enable a thriving, well-functioning campus and surrounding community this fall as the local, state, national and global COVID-19 situations continue to evolve. As our work to create a safer campus environment moves forward, we will keep in regular touch in the weeks ahead about the actions that all of us will be asked to take together as we prepare for August and beyond, and I am optimistic that my fellow Gators will once again rise to the challenge.
---
Preparations underway to provide a healthy return to campus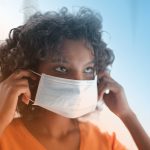 While UF Health's screening efforts are designed help slow the spread of COVID-19 as we begin to welcome back more members of our UF community, a number of efforts are also underway to ensure the university is thoroughly prepared and adequately supplied to follow health and hygiene best practices.
As we shared earlier this month, UF Facilities Services teams have been working proactively to implement measures to lay a strong foundation for a healthy work environment as the university resumes full on-campus operations. In addition, members of the UF Procurement Services and Facilities Services teams have already sourced and distributed supplies including hand sanitizer and masks to areas throughout the university. Among the preparations thus far:
More than 400 hand sanitizer stations have been distributed for placement in buildings throughout campus to be set up in areas including main entrances, common spaces and reception locations. A sustainable refill or exchange program is being developed to provide regular restock, as needed.
All occupied buildings on campus now feature signage designed to remind members of the UF community as well as visitors to face coverings in public areas and to observe physical distancing guidelines.
A large supply of disposable three-ply ear-loop masks and cloth masks have been acquired and distributed throughout the university as well as at the UF Health testing site located at the Phillips Center, and additional supplies will be ordered as well.
"I want to thank Procurement and Facilities Services for their work in sourcing and dispensing these supplies," said Senior VP and COO Charlie Lane. "This approach will continue throughout the summer as UF works to restore our operations to their full potential."
UF departments and units with questions about supplies ordered and distributed are encouraged to work through their dean's or vice president's office to ensure their areas are equipped. Further information on suppliers carrying sanitizing supplies is available on the COVID-19 section of the UF Procurement website.
---
New sessions added to virtual training courses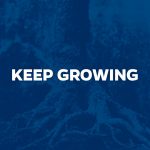 At UF, times of change and uncertainty are also times to connect with colleagues throughout the university and to find ways to work, collaborate and lead better.
Since mid-March, UF Training & Organizational Development has had more than 2,400 completions of its "Keep Growing" virtual training courses, webinars and community sharing sessions. As one participant noted, the offerings have helped her "stay sane and productive" during this time.
New sessions are being added regularly to continue to support UF faculty and staff through this time of ongoing transition. Visit the Keep Growing section of the UFHR website to find resources to help you navigate and thrive during challenging times.
---
Call for nominations: Career Influencer Awards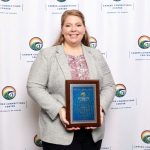 UF's Career Influencer Awards, sponsored by the Career Connections Center, celebrate the collaboration and innovation of our university and employer partners. The center has announced a call for nominations of those who had an exceptional impact on career development and career engagements in the 2019-20 year.
Self-nominations as well as nominations of colleagues or an organization are being accepted through June 12. Nominations will be reviewed by a campus committee, and award recipients will be announced at the center's annual Career Engagement Summit.
For more information and to submit a nomination, visit the Career Connections Center website or contact Director for Career Foundations Angel Iverson at Aiverson@ufsa.ufl.edu.
Pictured at left: 2018-19 award recipient Holly Moses
---
Curious about Florida's environmental news?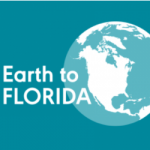 If you're looking for an easy way to keep up with Florida's environmental news, the UF Thompson Earth Systems Institute team curates the state's environmental news and explains what's going on, why it matters and what we can do about it in their monthly Earth to Florida newsletter. Sign up today via the Florida Museum's website.