May 22, 2020
Love in the time of COVID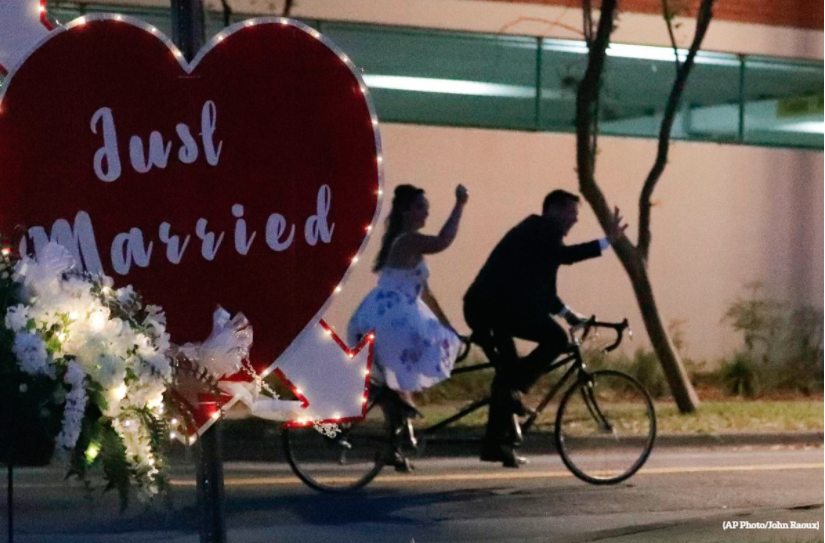 Lane and Christine Abraben were married in a drive-thru wedding ceremony at the Family and Civil courthouse in Gainesville on May 14. Couples unable to have a traditional wedding because of the coronavirus pandemic were invited to take part in such ceremonies.
Christine, innovations coordinator for the College of Education's Lastinger Center, was scheduled to have been married to Lane on April 4, but the wedding was postponed. Read her story and view photos of their "wonderful evening of whimsy."
---
PHHP departments working to improve PPE during COVID-19
Researchers in UF's Departments of Environmental and Global Health and Epidemiology are on a mission to improve personal protective equipment (PPE), specifically face masks, that are being widely used to protect health care workers.
The study aims to use nanotechnology to improve the capturing and killing of virus particles in the design of PPE, allowing for extended use and better protection. The researchers realize PPE needs to be more efficient without sacrificing ease of use to wear.
Read the full UF Health article here.
---
Challenging times serve as catalyst for innovative student reporting
COVID-19 forced Harrison Hove, lecturer in the Department of Journalism, to re-imagine his television reporting course this spring.
"The global pandemic was a catalyst for innovation, internationalization, embracing new technology and safety in order to tell impactful stories differently," Hove shared.
Hove's students worked together to create "Conquering the Crisis," a 30-minute global pandemic news special. Students chose a country, identified a unique story angle, located sources in the country, interviewed them via Zoom, gathered video content and edited their news stories. The student anchors recorded themselves using cell phones or their own cameras to weave the stories together.
Check out the video below to view their final project.
---
Center for Arts in Medicine researchers help explore the effects of social isolation
Knowing that the arts can be an effective coping mechanism, researchers at the University of Florida Center for Arts in Medicine have partnered with University College London to help study the mental health impacts of enforced isolation.
Their goal is to understand how certain activities, including the arts, may buffer the effects of social distancing in order to support people psychologically and socially during the pandemic.
The Center for Arts in Medicine hopes the results will help inform recommendations to improve a sense of well-being and resilience during and after the crisis. The video below shows an example of how UF is using the arts to respond to COVID-19.
Read the full College of the Arts article here.
Cienna Wesley, Musician in Residence with UF Health Shands Arts in Medicine, performs 'Halo' by Beyonce and 'Hero' by Mariah Carey, songs that are often requested by patients at the bedside.