October 7, 2020
UF prepares for more face-to-face offerings this spring
In a Faculty Senate Town Hall held yesterday afternoon, Provost Joe Glover and Vice President Jodi Gentry discussed the university's return to a more robust set of face-to-face course offerings during the Spring 2021 semester. Based on the university's investment into the mechanisms to prevent transmission of COVID-19 and under the ongoing guidance of UF Health Screen, Test & Protect, Provost Glover outlined why the university is in a better position to provide these offerings to students who wish to have a richer on-campus experience this spring.
"We have not seen and are not seeing transmission of the virus in academic settings, in classrooms or laboratories," Provost Glover explained. "Where we are seeing the virus transmitted is in social settings, at home and, in rare instances, in clinical settings where infection control procedures may not have been followed properly. In these cases, the UF Health and Alachua County health department contact tracing program has been effective in mitigating further spread."
For the spring semester, deans have been encouraged to establish face-to-face classroom sections accompanied by a HyFlex section online to accommodate both in-person and remote learners. Faculty in classroom and laboratory settings are also being provided high-grade protections that staff in UF Health use in a medical setting, including medical-grade N95 face masks. Provost Glover also shared that the university's classroom distancing protocols provide spacing that exceed those recommended by the CDC, as illustrated in this image of Carleton Auditorium.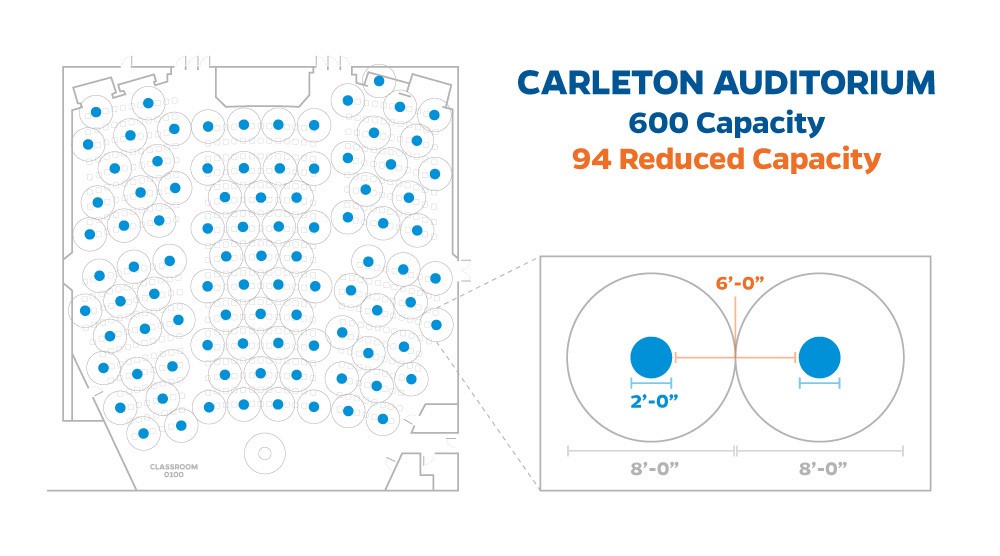 In his remarks, Provost Glover also discussed the State of Florida's challenging economic situation, recognizing the possibility of cost-cutting in the future. In light of this and to preserve the university's budget and minimize risk, he explained, the delivery of face-to-face courses is critical to demonstrate to parents, students and the state government that they are receiving a return on their investment in UF.
During the discussion, Vice President Gentry also reminded attendees of policies and protocols that pre-date the COVID-19 pandemic and continue to be available for situations that merit additional consideration. Certain medical conditions included in the CDC guidelines related to increased COVID-19 risks may be considered a disability under the Americans with Disabilities Act (ADA). The Family and Medical Leave Act (FMLA) can provide eligible employees with job-protected leave for specified family and medical reasons. Additionally, an employee may be eligible for an unpaid extended leave of absence for a variety of personal reasons, upon approval.
---
Join UF at NVIDIA's GTC Conference today
Provost Joe Glover and Dean David Richardson will represent UF as part of a panel on "Realizing the Vision of an AI University" at NVIDIA's GPU Technology Conference this afternoon at 2 p.m. The virtual conference, which spans four continents and runs throughout this week, provides an opportunity for developers, researchers, engineers and innovators to share and discover the latest breakthroughs in AI, HPC, graphics, data science and more.
Anyone with an ".edu" email address may register to attend the conference for free. For more information, visit the GTC 2020 website.
To learn more about UF's AI initiative, check out the video below and visit the Artificial Intelligence at UF website.
---
Sid Martin Biotech celebrates 25 years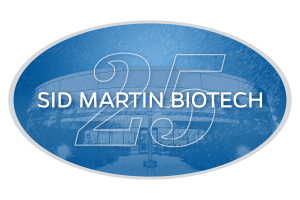 As one of the first biotech business incubators in the United States, UF Innovate | Sid Martin Biotech has paved the way to success for many startup companies. Sid Martin is celebrating its 25th anniversary and continues to have a timeless impact.
"The 25th anniversary of Sid Martin is a testimonial to business incubation – and it certainly is proof that business incubation works!" shared Mark Long, the director of incubation services at the University of Florida.