September 17, 2020
Weekly COVID-19 screening available beginning next Monday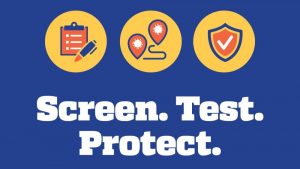 Starting next week, faculty, staff and students located at UF's Gainesville campus will be invited to complete a weekly COVID-19 screening questionnaire and request testing through UF Health Screen, Test & Protect. Both employees and students will receive emails prompting them to complete a screening at the start of each week in an effort to protect our community from further spread of SARS-CoV-2, the virus causing COVID-19.
The weekly symptom questionnaire serves as a public health surveillance tool designed to monitor trends in our UF community and easily link students, faculty and staff to COVID-19 testing. The survey will also help remind all of us to pay attention to our health and to stay home if we feel sick. This is a tool being used successfully across the nation to help slow the spread of COVID-19.
If you believe you are experiencing COVID-19 symptoms or have been in close contact with someone who has or is suspected to have COVID-19, you may login to ONE.UF to complete the screening questionnaire, regardless if you have already completed it in the past. Upon completing the questionnaire, you may elect to schedule an appointment for testing through UF Health Screen, Test & Protect.
On-campus testing will continue to be made available at no personal cost to employees; however, please note that any follow-up deemed necessary will be treated as any other healthcare provided and managed through your insurance provider. You may also elect to consult with your personal physician.
Testing is still available at the Cultural Plaza off Hull Road Monday through Friday. Those being tested may arrive by car, scooter or bike, or on foot. Additional locations will also be available on campus in areas more convenient for students in residence halls.
As a reminder, if you are ill or are experiencing symptoms, please be sure to stay home while you await your testing results, and speak with your supervisor about leave options or whether working remotely may be an option for you.
Thank you for doing your part to help us keep campus as safe as possible. To learn more about UF Health Screen, Test & Protect and habits you can adopt to stay healthy, visit https://coronavirus.UFHealth.org/screen-test-protect.
---
UF mask policy updated to include outdoor areas on campus
The UF Masking and Physical Distancing policy was updated yesterday to indicate that two or more people within 6 feet of one another outdoors must wear a mask or cloth face covering.
In late August, the policy was updated with additional guidance on the types of masks approved for use on campus and at university facilities. Those masks with exhalation valves or vents allow air to be expelled and are prohibited because they do not provide protection to others. In addition, neck gaiters and bandanas should not be worn unless no other face covering is available.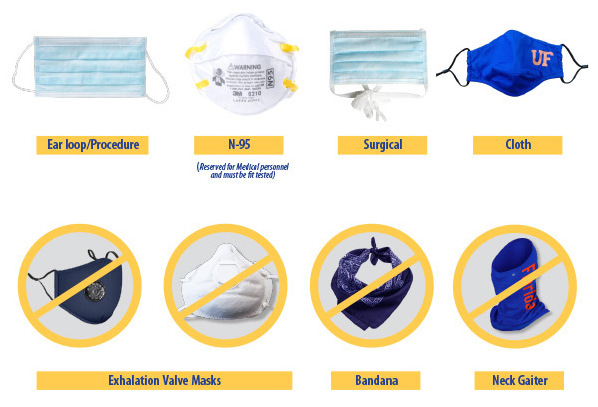 ---
Learn more about how UF is working to elevate its benefits offerings and services
As UF rises in the national rankings, UF Human Resources is working hard to ensure its suite of benefits offerings and services rise to the occasion. Last week, UFHR hosted a town hall to introduce several ways we are working to better support the wellbeing of our faculty and staff and to be more responsive to a range of individual and family needs. If you missed it, you can check out the recording below.
Next week, faculty and staff wishing to take a deeper dive to learn more about UF's new paid parental and medical leave programs and its transition to a more progressive paid time off model are invited attend one of the following sessions:
Additional opportunities to learn more about a range of UF benefits and services will be offered in the weeks leading up to and through this year's Open Enrollment period. Watch for further details to come.
---
Teacher/Scholar of the Year José Fortes answers 20 questions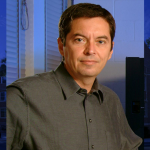 José Fortes, AT&T Eminent Scholar and professor of Electrical and Computer Engineering, was recently named UF Teacher/Scholar of the Year, the highest faculty honor the university bestows. Fortes, whose research interests include cloud computing, biodiversity informatics and human-machine cooperative intelligence, adds this latest honor to an already long list of accolades and awards.
He recently answered 20 questions, from serious to silly, in a delightful Gator Nation News profile.
---
Free NIH-sponsored series supports groups Underrepresented in Academia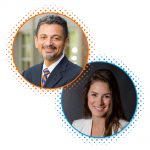 The NIH-sponsored Initiative to Advance the Careers of Researchers from Groups Underrepresented in Academia (URiA) is hosting five sessions to identify the barriers and challenges to success of scientists from URiA groups and to identify actionable strategies to overcome these challenges.
The seminar series is free and open to all, features a line-up of speakers that include UF Chief Diversity Officer Antonio Farias (session 4 on Oct. 23) and UF College of Medicine Assistant Professor Michelle Cardel (session 5 on Oct. 30). Register for any or all of the sessions, which will be held on Fridays at noon EST.