APA gives warm welcome to new TEAMS staff
More than 80 TEAMS staff employees received insight into four prominent UF administrators' views on leadership as well as reflections on their own experiences as new UF employees at a "Warm Welcome" event hosted by the Academic and Professional Assembly (APA) on Aug. 15.
In addition to the panel discussion—which featured UF President Kent Fuchs, Vice President for Human Resources Jodi Gentry, Chief Diversity Officer Antonio Farias and Dean of the College of Arts Onye Ozuzu—attendees enjoyed refreshments and time for facilitated networking.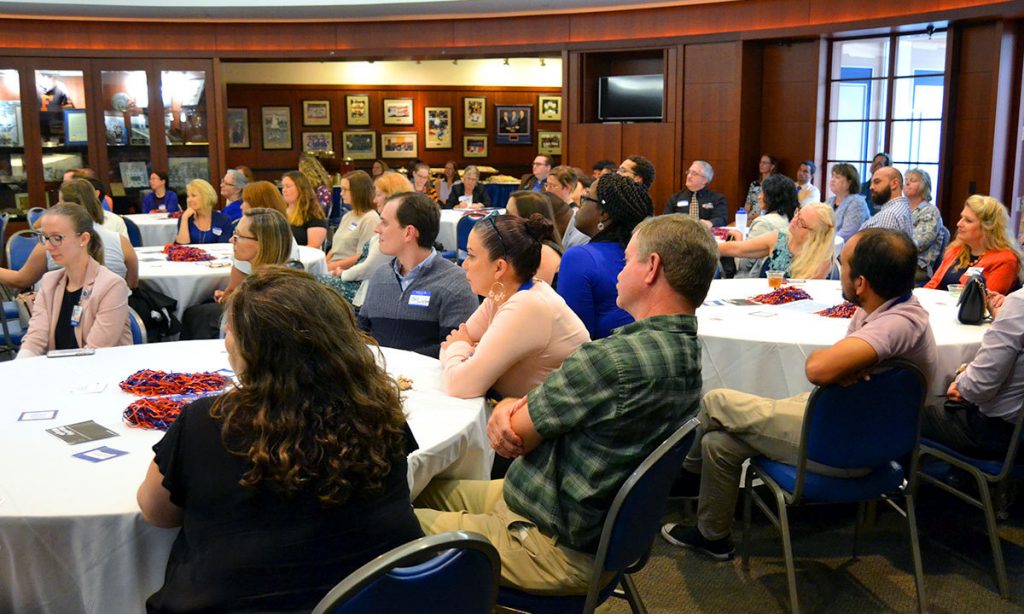 Alicia Turner, associate director for Business Relations for UF Information Technology, facilitated the panel discussion, leading with questions inspired by the work of research professor and storyteller Brené Brown. The four UF leaders shared their perspectives on topics ranging from big-picture issues like UF's mission and goals of reaching top-five status to more intimate reflections on their personal experiences from the time when they were new employees at UF.
The event, sponsored by UF Human Resources and the Office of the Chief Diversity Officer, was held in partnership with other UF affinity groups, including the Association of Black Faculty and Staff, Café Latino and the Latinx Staff and Faculty Association. The goal, said APA President Krista Vaught, was to help foster a sense of belonging and community as well as inspiration among staff newer to UF.
"Our panel shared genuine, powerful insights on leadership, diversity and inclusion, the core values of UF, a sense of belonging and the value of community," said Vaught. "For attendees, the discussion sparked not only connections with colleagues but also with experiences and values that the leaders shared."
For more information about the APA, including upcoming events, visit https://apassembly.ufl.edu/.
Pictured above, from left: APA President Krista Vaught, UF Information Technology's Alicia Turner, Dean of the College of Arts Onye Ozuzu, UF President Kent Fuchs, Vice President for Human Resources Jodi Gentry and Chief Diversity Officer Antonio Farias