Exhibition featuring 31 Latin American artists debuts at UF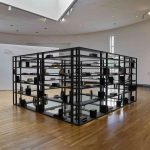 A new exhibition at UF features the U.S. debut of the Cisneros Fontanals Art Foundation Collection that includes works by 31 Latin American artists. University Galleries Program Director and Curator Jesús Fuenmayor recently discussed the importance of showcasing these artists at UF. The exhibition is jointly presented by the Harn Museum of Art and School of Art and Art History University Galleries.

Read the full interview: https://arts.ufl.edu/in-the-loop/news/international-plurality-and-discourse-a-q-a-with-the-curator-of-plural-domains/.

A full list of events and programming may be found at: https://arts.ufl.edu/in-the-loop/events/plural-domains-selected-works-from-the-cisneros-fontanals-art-foundation-collection/.