Normal Fixel Institute to expand as part of $75 million initiative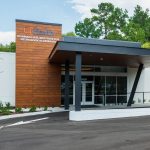 UF and UF Health recently announced a new $25 million gift from the Lauren and Lee Fixel Family Foundation that will contribute to the continued expansion of the Norman Fixel Institute for Neurological Diseases at UF Health.
The gift is part of a $75 million initiative made possible by contributions from UF, UF Health and private donors to build on the momentum following the institute's founding two years ago.

The additional investment will spur growth in the areas of national and international telemedicine, Alzheimer's disease clinical research, mental health, traumatic brain injury and ALS and will help cultivate the next generation of expert researchers tackling these challenging diseases.

Learn more: https://ufhealth.org/news/2021/uf-uf-health-announce-gift-and-new-75-million-initiative-expand-norman-fixel-institute.