Support for our AAPI colleagues and students
Events throughout the past year have prompted a call to action to address discrimination and violence against Asian, Asian-American and Pacific Islanders in the United States. UF Human Resources joins our UF colleagues in raising our collective voice to condemn such acts of hatred and xenophobia.
While I hope you will never have reason to do so, if you experience or witness an act of discrimination or hatred, I urge you to act swiftly to report it. If you see something, say something. To learn more about how you can do so, please visit our website outlining options for reporting concerns.
In the video below, filmed at the start of Fulbright Awareness Week, President Fuchs spoke about the importance of countering xenophobia. In it, he reminded us that, "UF will always be a home base and a destination for global scholars, global research and building global consciousness."
Alongside President Fuchs and our colleagues throughout the University of Florida, we in UF Human Resources remain fully committed to ensuring a safe and welcoming place for those from all corners of our global community.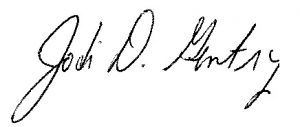 Jodi D. Gentry, Vice President for Human Resources
---
Below are excerpts from UF statements issued in support of our Asian, Asian American and Pacific Islander students, faculty and staff. You can find the full statements on the Office of the Chief Diversity Officer's website.
"To our students, faculty and staff who are fearful or distressed because of this terrible violence, please know that we cherish you and your presence at our university."
— Kent Fuchs, President
"Our identities — including race, gender expression and identity, ethnicity, and religion, to name a few — are not deficits but dividends of who we are. It is critical we advocate for our collective humanity, care for one another, and continue important action to challenge and end violence, malicious stereotyping, and racism."
— D'Andra Mull, Vice President for Student Affairs
"As part of a global university, it is our duty to stand against prejudice and serve as an example of mutual respect for all. At the same time, we need to acknowledge and talk about the history of oppression and violence that has led us to this moment."
— Scott Angle, Vice President of Agriculture and Natural Resources
"To our Asian, Asian American and Pacific Islander community, we stand with you and support you. We value you and all of the unique perspectives, experiences and strengths you offer. We want to empower your experience, and above all else, make sure you know that you are welcome here."
— Saby Mitra, Dean, and fellow deans, Warrington College of Business
"As a college, we celebrate a culture of dignity, respect, support and compassion, and continue to work towards fostering a diverse and inclusive environment. Right now, I want to be sure we are doing what we can to ensure that all members of our college community feel safe, secure and supported."
— Isabel Garcia, Dean, College of Dentistry
"The rise of ignorant and racist attacks on Asians and Asian-Americans must stop. Acts of hate and violence have no place in our society, and the UF College of Education condemns those who perpetrate these atrocities."
— Glenn Good, Dean, College of Education
"The HWCOE, like our entire country, has been elevated and enriched by the contributions of our Asian colleagues and students, and we must ensure that each and every one of them feels, and is, welcome in our college. If anyone is mistreated, everyone is diminished."
— Cammy Abernathy, Dean, Herbert Wertheim College of Engineering
"We join with colleagues across campus in the vigorous calls for justice, positive change, and in support of our Asian-American colleagues and students. The Graduate School will not be silent or tolerate any grievous or egregious circumstances that arise related to racism, bigotry, and hate."
— Henry Frierson, Associate Vice President and Dean, The Graduate School
"It is important that HHP support and amplify the voices of our Asian American colleagues, students, family, and friends. To do so, we must better understand their lived experience."
— Mike Reid, Dean, and Rachel Fu, Chair, Dean's IDEA Council, College of Health and Human Performance
"Our law school community, like the entire nation, is enriched by the contributions of our diverse student body, alumni, faculty, and staff, including our Asian colleagues. For those of us who are not directly affected by these acts of violence, it is our collective responsibility to work together to stop acts of hatred whenever and wherever we can."
— Laura Ann Rosenbury, Dean, Fredric G. Levin College of Law
"CLAS and UF have been elevated and enriched by the contributions of our Asian colleagues and students, and we must all work to ensure that every one of them feels welcome in our college and the community."
— Dave Richardson, Dean, College of Liberal Arts and Sciences
"We will combat fear and mistrust on the part of our users and work diligently to reassure each person that we will do everything within our power to make them comfortable in our facilities and while on campus. No one should have to live in fear."
— Judy Russell, Dean, University Libraries
"We stand united with our Asian trainees and colleagues to foster an inclusive environment where everyone is treated with dignity and respect. The college does not tolerate discrimination in any form and is dedicated to promoting a more just world free from racism and hate."
— Julie Johnson, Dean, College of Pharmacy
"We call on members of our community to join in support of our Asian-American colleagues. We are committed to creating an inclusive environment where everyone is respected and valued."
— Michael Perri, Dean, College of Public Health and Health Professions
"The UF College of Veterinary Medicine denounces the racism and hatred against people of Asian heritage throughout our nation. This behavior is unacceptable and has no place in our society. Preparing leaders to solve global problems requires that advocacy for fairness and equity be part of the college's ethos where everyone feels safe, heard, respected and valued."
— Dana Zimmel, Interim Dean, College of Veterinary Medicine
"We know that this work is ongoing and does not occur in statements like this, but rather in iterative, persistent actions."
— Peter Carpenter, Director, School of Theatre and Dance
"Let us use this time to recognize and explore our own potential biases we may have regarding other ethnic and racial groups and work toward eliminating those biases by learning more accurate information and taking a more empathetic disposition."
— Madeline Joseph, Associate Dean for Inclusion and Equity, UF College of Medicine – Jacksonville, and Ann-Marie Knight, Vice President for Community Engagement, UF Health Jacksonville
"We call on the Gator diaspora to continually examine their own work to ensure that we are not affirming, even inadvertently, pervasive and harmful narratives about Asian-identifying people and communities."
— College of Journalism and Communications
"We must work together, not just as nurses but as humans, to put a stop to AAPI hate and discrimination. We will continue to fight toward advocacy for social justice to help put an end to racism and discrimination that exists throughout our country."
— College of Nursing