UF College of the Arts staff capture work-from-home life
How do you rebuild a sense of community and connection among colleagues after a year of social distancing? This is a question the Staff Council at the UF College of the Arts tackled as they began plans for their first staff retreat in more than a year. As the Council began brainstorming retreat ideas, however, one thing became clear — they did not want another virtual meeting.
"Years ago, someone said that it's not a retreat if you're just doing more work," said Human Resources Director Barb Mitola. "So, we decided to try something different. Since then, our retreats have been a wonderful way to broaden who we are and how we engage – and it does make us better together."
It was with this spirit in mind that Fiscal Assistant Summer Brady suggested painting a mural. The idea proved popular and soon, the retreat became a college-wide effort.
First to step up was School of Theatre + Dance Company Manager Austin Gresham, who offered use of the wall on the side of the old Leonardo's 706 building. While usually reserved for educational purposes, the wall became the perfect space for this project.
Next, Dr. Heidi Powell, director of graduate studies for the Art Education Program, connected the Council with the Harn Museum of Arts' Community & School Outreach Coordinator Mimi Stocker. It was Ms. Stocker who took the Council's mural idea and helped sketch a design. Then faculty and staff in the Scenic and Production areas in the School of Theatre + Dance helped prepare the wall for painting.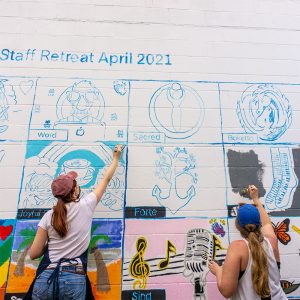 "Deciding what the mural would be was a cool experience," recalls Natalie Rella, communications coordinator at the Center for Arts in Medicine. "We sent out a survey with all the options, and I think hands-down almost every single person chose the Zoom look. It really speaks to what we've experienced collectively. It was like a nod to that shared experience but with a playful twist."
In a typical Zoom call, each square features a person's face or picture. But the twist for the mural was to have the squares in the panel hold symbols that represent staff members' lives outside of work.
"The idea of having this Zoom screen that is associated with work also represent what is behind that screen helps show that we are much more than just a staff member," said Mitola.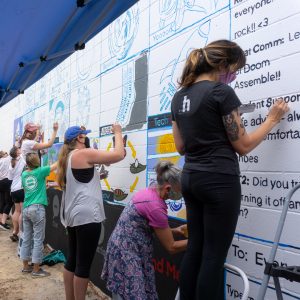 Staff who didn't choose an image contributed to the design by providing encouraging and humorous comments to write on the 'chat' panel. Approximately 30 staff gathered to paint the mural.
"There was a little concern that COVID was still with us," said Rella. "But many people have been vaccinated by now and we also have COVID precautions in place. So, once we talked through that, people felt safe."
College of the Arts Dean Onye Ozuzu praised the resilience shown by staff at the college and their eagerness to come together for this retreat.
"The staff empower each one of us at the College of the Arts, facing the challenges of this past year head-on and finding new solutions and processes that will improve our work in the years to come," said Ozuzu. "This mural and the collaborative methods used to create it represent a testament to the staff's resiliency and their willingness to embrace moments of great change and disruption to collaborate with faculty and each other in finding opportunities to positively move us all forward."
This retreat marks the first time in more than a year since staff at the College of the Arts were together in person. And those unable to attend the event — ironically — were able to join via Zoom through two cameras set at opposite ends of the mural.
"This was actually really huge for us," said Jessica Ward, fiscal assistant at the college. "My team has been remote for the past year, and while I speak with them every day, it was really kind of important to have this time to see them."
For Senior Administrative Officer Dianne Caple, the retreat's success exemplified the importance of creating a space for staff to collaborate and engage with one another in a more personal way. "The fact that everybody showed up en masse shows how important it is to be able to keep community, and to be able to see each other and be there for each other."
For Rella, this retreat marked an important moment. "I was brought on staff two weeks before the first COVID case on campus and then everything went virtual. So this will be the first time I get to meet people in person."
By the end of the retreat, Mitola hopes to have a visual representation of how staff at the college persevered through a challenging year and ultimately came back together as a team.
"Informative, collaborative projects create trust and better understanding between people who work together," she said. "What we hope to get out of this is what we hope to get out of all our interactions — we communicate better, we have fun more and we get the job done. And we love the idea of messaging to other staff across campus, that it's great to express your humanity."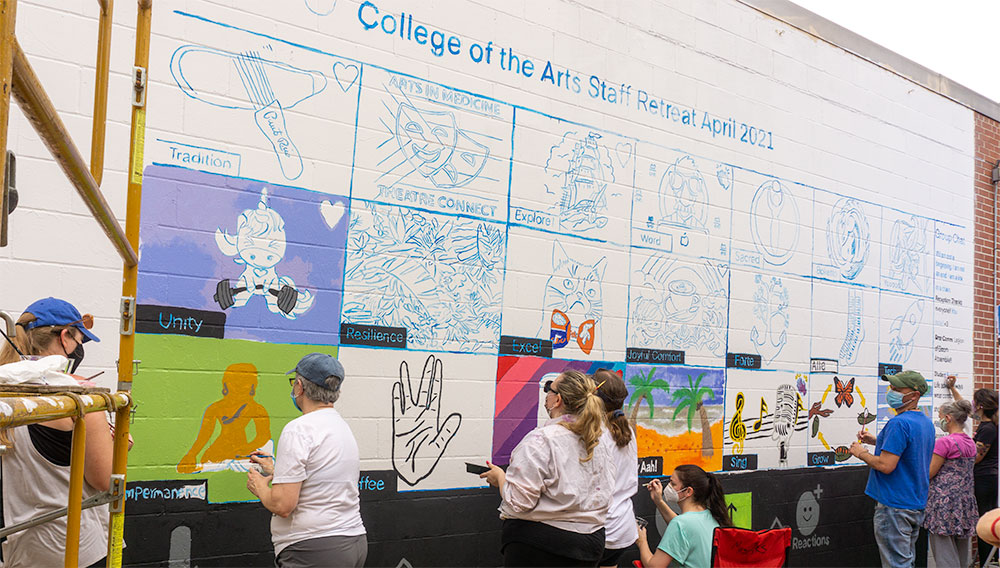 Beyond another team-building exercise, Rella hopes this retreat offers staff at the college the opportunity to heal.
"We are dynamic human beings. We are multi-dimensional, and this is a way for us to express that. We have also experienced collective trauma and I know, from the work that we do at the Center, that engaging in the arts heals. It makes meaning of these dark times. It offers opportunity for shared healing. So, for me, it was a real opportunity for us to come together in-person, reconnect, experience this artistic expression and heal."
Rella in particular hopes that other units across campus are inspired to paint their own murals. She notes that the wall is a space available to other UF units. And if someone needs help getting started, the Staff Council at the College of the Arts is ready to assist.
"It is a privilege to have such strong colleagues as partners in working for the college's mission," said Ozuzu. "If you have a chance go see it, the mural is itself a way to perfectly sum up the experience we've all just been through, to humanize it and to promote the healing and recovery process that is starting now."