Early voting for primary elections starts Aug. 13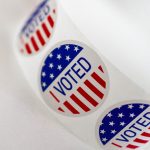 UF faculty, staff, students and other Alachua County registered voters may cast an early vote for the 2022 Primary and City of Gainesville elections at the Career Connections Center in the J. Wayne Reitz Union from 9 a.m. to 6 p.m., Aug. 13 – 20. Parking will be available in the Reitz parking garage and voters may enter the center through the ground level entrance at the circle drive.
Visit the Vote.org website to check your registration status, and watch the recordings of the Primary Candidate Forum hosted by the League of Women Voters of Alachua County and the Bob Graham Center for Public Service.