Engaging arts and culture to build vaccination confidence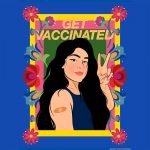 The UF College of the Arts' Center for Arts in Medicine, College of Public Health and Health Professions, College of Journalism and Communications, and Center for Public Impact Communications are collaborating to mount a rapid, multi-modal, campus-wide vaccine communication campaign, leveraging the strength of artists, culture-bearers and the arts to move people to action. 
The initiative, Engaging Arts and Culture to Build Vaccination Confidence at UF, is seeking applications from UF-affiliated artists and culture bearers interested in improving vaccine confidence and acceptance through their chosen art form. Awards range between $3,000 – $10,000 each that will support 8 to 12 projects in total.

The deadline to submit an application is Oct. 27. Learn more and submit a proposal at: https://docs.google.com/document/d/1fN58qizAt6Y3FB0ev-oYbp7PVH5Yz0aSlh84kghV0wQ/edit.
Image by Kimberly Naranjo