UF joins global study into Parkinson's onset and progression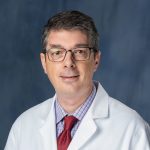 The University of Florida has been selected to join The Michael J. Fox Foundation's landmark clinical study, the Parkinson's Progression Markers Initiative, a global project seeking to discover new insights into the onset and progression of Parkinson's disease by studying people with and without the disease. 
Learn more: https://mbi.ufl.edu/2021/12/06/uf-joins-global-study-into-parkinsons-onset-and-progression/.

Pictured above: Nikolaus McFarland, M.D., Ph.D., associate professor of neurology, Wright/Falls/Simmons Professorship in PSP and atypical parkinsonism, director of UF HDSA Center of Excellence.