Celebrate July Fourth with fireworks, food and loved ones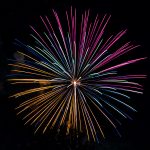 July Fourth is just around the corner, with celebrations throughout the long weekend. Here are a few upcoming events you and your loved ones can enjoy in Gainesville and the surrounding area.
Not in Gainesville? Explore July Fourth celebrations where you live!
Enjoy an evening of live music, food trucks and spectacular fireworks at Fanfares & Fireworks on July 3 at 6 p.m.
On July 4, veterans will receive free admission to the Florida Museum's Butterfly Rainforest and Science Up Close: Fantastic Fossils exhibits.
Dubbed "the largest small-town fireworks display in America," the City of Alachua's July Fourth celebration starts at 4 p.m. and offers live music, food and an incredible display of fireworks.
Explore more July Fourth events in this Visit Gainesville article.