Try these delicious recipes for your Thanksgiving meal!
Thank you to everyone who has shared a favorite holiday recipe with us so far. Throughout this month and leading up to the December holidays, we'll share some of the recipes we received, such as these two dishes that are perfect for Thanksgiving!
Do you have a favorite holiday recipe? Click here to share it with us!
Broccoli Cornbread
Submitted by Sheryl Heinicka, Student Health Care Center/Occupational Health.
This recipe was given to me by a good friend in Virginia. It is great as a side dish to soups, chili or as a bread with a weekend dinner of roasted chicken, fried chicken, roasted beef, bar-b-que or any other number of foods. You do not taste the cottage cheese, but it does keep the cornbread very moist and delicious!
I have served it at many lunches at the Student Health Care Center and folks just love it. The dish is requested by employees every time we have a potluck lunch.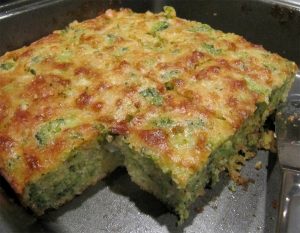 Ingredients:
1 small onion, chopped — white, yellow or Vidalia
3 large eggs, lightly beaten
1 cup cottage cheese
1 teaspoon salt
1/4 to 1/2 a teaspoon of black pepper
1/2 a cup of melted butter
10 ounces — about 1, 1/2 cups — of fresh or frozen chopped broccoli

Blanched if using fresh, thawed and drained if using frozen

1 package of Jiffy Corn Muffin Mix
Directions:
Preheat oven to 400 degrees Fahrenheit.
Grease a 9 X 9 inch pan or spray with cooking spray.
Melt the butter.
Stir the eggs, cottage cheese, salt and pepper together in a medium-large bowl.
Add the chopped onions, broccoli, butter and corn muffin mix — stir to incorporate the ingredients evenly.
Pour the mixture into the baking dish and bake for 25 to 35 minutes, or until golden brown.
Let stand for five minutes before cutting into nine pieces and removing from the pan.
Pancetta-Wrapped Roasted Turkey
Submitted by David Fox, School of Forest, Fisheries, and Geomatics Sciences.
In the past I have smoked, fried and roasted holiday turkeys, but after I found this recipe my family will have it no other way! The crispy pancetta is especially good crumbled over mashed potatoes and gravy.
To brine or not to brine ~
If you're using a self-basting or kosher turkey, skip the brine and brining steps.
If you're using a non-self-basting turkey, prepare the brine as instructed below.
Ingredients:
Brine
1 cup of kosher salt
2 jalapeno peppers – sliced
2 quarts of hot water
6 quarts of cold water
Rub
1 tablespoon chili powder
1 tablespoon kosher salt
2 teaspoons cumin
1 teaspoon rosemary
1 teaspoon thyme
1 teaspoon garlic powder
1 teaspoon dark brown sugar
2 teaspoons ground black pepper
1/2lb of thinly sliced pancetta
3 medium onions – peeled
Directions:
Prepare the brine in a large bucket by combining the salt, garlic and peppers in the hot water and stirring to dissolve the salt.
Add the turkey — breast side down — and add cold water until the bird is covered.
Refrigerate for 12 hours.
Preheat the oven to 325 degrees Fahrenheit.
Mix all the rub spices in a small bowl and pat the spice mixture all over the turkey.
Place the turkey on a rack in a roasting pan and place the three onions in the turkey cavity.
Arrange the pancetta on top of the turkey breast, overlapping the slices.

Secure with a couple of toothpicks if needed.

Lay more pancetta on the turkey legs and thighs.
Roast the turkey about 4,1/2 hours or until a thermometer reads 165 degrees Fahrenheit in the thigh.

Loosely tent with foil after about an hour.

Transfer to a cutting board and let rest for 30 minutes.
Remove the crispy pancetta to serve on the side and carve.
Butterflying or spatchcocking the turkey by cutting out the backbone and pressing the turkey flat decreases the roasting time.

A wired thermometer can be used to determine if it's cooked.