Category:
Diversity, Equity and Inclusion
---
---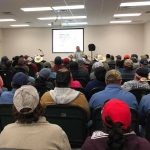 Since 2010, the population of Hispanics in Florida experienced one of the biggest population increases at over 1.4 million. This dramatic growth created the need for programs that can adequately and inclusively serve this population.
In 2017, a group of UF/IFAS Extension agents seeking to address this issue created the Coalition of Florida Extension Educators for Latino Communities, or CAFE Latino; a grassroots organization with the goal to create science-based educational materials for the benefit of Spanish-speaking communities.
---
---
---
---
---