Keeping inclusivity at the heart of the hiring process
The Inclusive Hiring Hub provides UF faculty and staff with resources and guidance at each stage of the hiring process. As part of these resources, the Inclusive Hiring Badge program was launched and features education on the topics of inclusion, diversity, equity and access in the workplace.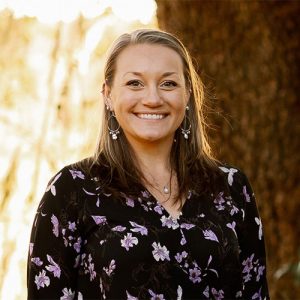 After completing the program, UF Performing Arts Director of Finance Amber Bush was able to identify and implement needed changes to minimize biases and stereotypes during the recruiting process. We sat down with Amber to learn more about her experience with the program and how she is incorporating inclusive hiring practices in her work.
What motivated you to participate in the Inclusive Hiring Badge program?
One of the hats I wear here at UFPA is HR liaison for our unit. It was important to me to engage with this program since inclusivity is at the heart of everything we do at UFPA. I saw this program as a responsibility for my position, so I can best support all our hiring processes to be inclusive and non-biased.
How will the program resources, such as the Inclusive Hiring Toolkit, elevate your department's recruiting practices?
The Inclusive Hiring Toolkit provides resources at every stage of the recruitment process from vacancy to selection. Our department has already implemented some of the resources into our hiring processes to minimize biases and stereotypes. The program provides many variations of some of the central ideas, so you really do feel comfortable having some of the difficult conversations around uncovering biases and stereotypes as you step into a hiring process with your team.
What are some inclusive hiring strategies your unit is considering implementing?
Some of our work on these strategies started during the pandemic, when we took LinkedIn Learning courses related to hidden and implicit biases as a department. We have advertised our positions in multiple posting places and kept our postings open for longer time to attract a diverse workforce.
What program resources have you found most helpful and why?
The Inclusive Hiring Toolkit's Recruiting, Selection and Hiring Sources is a great resource to really elevate our reach when we are recruiting. While we don't hire too frequently, this will be extremely valuable to us in the future.
What strategies will you use to help faculty and staff implement inclusive hiring practices in future searches?
I will continue to share the tools with our staff members, such as the EEO Reports and Source Reports. We will continue to use behavioral based questions in our interviews. We have developed a Diversity Council who, along with assisting in inclusive programming, have also helped us reach further into our communities for recruitment
Which of the core competencies did you find most valuable for your professional development?
I found all the competencies to be valuable, however, Driving a More Inclusive Workforce and Relationship Dynamics were my favorites.