COVID testing returns to SHCC as home test kits become available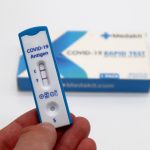 As shared in Friday's Campus Brief, UF is adjusting how it approaches the changing landscape of the COVID-19 pandemic as it transitions to an endemic. Large-scale testing that was ramped up on UF's main campus in response to Omicron will be moved back to the UF Student Health Care Center. Testing will be available on an appointment-only basis, scheduled via ONE.UF.

Health care workers and those working in a clinical setting should reference the UF Health Bridge for specific instructions.

UF is prepared to reinstate measures deemed medically prudent should the need arise.
Additional testing options
In the ongoing effort to curb the spread of COVID-19, every home in the U.S. is now eligible to order four free at-⁠home COVID-⁠19 test kits. Orders will usually ship in 7-12 days. To order your free at-home tests, visit COVIDtests.gov. The phone line 1-800-232-0233 is also available 8 a.m. to midnight seven days a week and offers assistance with ordering your tests in more than 150 languages.

CVS and Walgreens also offer no-cost testing in select locations. You can also visit the Florida Department of Health's list of testing sites for locations throughout the state.
Are you fully vaccinated?
Vaccinations and boosters continue to be our most powerful tool to reduce the spread of COVID-19. You can schedule your vaccine appointment via ONE.UF or by visiting the UF Health website to locate vaccine availability and booster locations.