UF Latinx Staff & Faculty Association provides community, space
On a campus with more than 50,000 people, finding community is essential.
In the spring of 2017, a few Latinx colleagues at UF had the idea to formally revive what is now an official space to retain, recruit and advocate for Latinx staff and faculty at the University of Florida.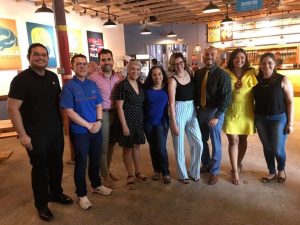 Zully Rivera-Ramos of the Counseling and Wellness Center and Rosana Resende of the Center for Latin American Studies began organizing efforts to formally create a group with the sole purpose of bringing together employees at UF who identify as Latinx. After months of planning and recruiting members through word-of-mouth, a working group comprising colleagues from throughout campus came together to create and review a draft of bylaws for the Latinx Staff & Faculty Association (LSFA). The initial working group included Carlos Hernandez of the Counseling and Wellness Center, Diana Moreno of Multicultural and Diversity Affairs, Gerry Altamirano of the Disability Resource Center and Lenny Ureña Valerio of the Center for Latin American Studies.
Since its inception, the LSFA has championed a mission of providing a welcoming and affirming space to recruit, represent and retain Latinx staff and faculty at UF. By advocating for social and professional development opportunities for Latinx staff and faculty and supporting equitable policies for for Latinx faculty, staff and students, LSFA seeks to increase Latinx visibility at UF and promote an inclusive campus environment.
Bernie Amaro, the association's co-president, is excited about sharing the social and professional aspects of LSFA with the campus community.
"We are working to establish initiatives that will support diversity and inclusion efforts across campus while providing a sense of community, celebrating culture and fostering collaboration among our members," he said.
The next general body meeting for LSFA will take place Tuesday, Nov. 19, at 5:30 in the newly rebuilt Institute of Hispanic-Latino Cultures, La Casita. Members of the UF community are encouraged to attend and learn more about LSFA. More information can be found by visiting the group's webpage or connecting on Facebook.
— Cecilia Luna