UF Preeminence — Five years later
Explosive growth and surge of new talent for a university on the rise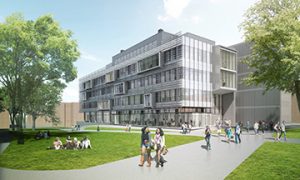 Five years ago, on April 22, 2013, the University of Florida was designated "preeminent" by the Florida State Legislature and Gov. Rick Scott under SB 1076. At the time, UF was the only state university to meet all 12 criteria established by the legislature to receive "preeminence funding," which was designated to support UF Online and faculty recruitment.
Building on the foundation of the outstanding work of the faculty who already called UF home at that time, the university has undergone explosive growth in the recruitment of additional faculty and researchers at the top of their fields. This influx of additional talent, alongside an increase in research dollars generated, has contributed to a rise in national stature reflected in UF's national rankings.
UF Online, launched in 2014, is already ranked the No. 11 online bachelor's program in the country and is exceeding projected enrollment, with a 34-percent headcount growth for AY2016-17. And to date, the nearly 120 university faculty hired under the preeminence initiative have brought more than $246 million in research funds to the University of Florida for projects on which they serve as principal investigator or mentor—or via funds that were transferred from their previous institution.
Topics being tackled by faculty who were hired as a result of UF's preeminence designation include the following. Where feasible, we've included links to more information.
African Studies: Public Health and Social Change
Aquatic Ecosystem Health
Autonomous Systems
Burkholderia
Chemical Innovation for Cancer Research
Corporate Law
Creative Writing
Drug Discovery and Development
Food Hub
Genomic Medicine
Latin American Development
Mathematical Modeling of Diseases
Metabolomics
Mucosal Immunology
Neuroscience and Brain
Online Learning Institute
Optimizing Early Childhood
Plant Genomics
Renewable Energy and Storage
Smart Polymer Nanomedicines
Social Network Analysis
Skeletal Muscle Biology
Tax
Throughout this period, the university has also seen extensive development of its physical infrastructure, including new construction and renovations as well as enhancements to its landscape. Alongside this growth, in 2016, the university initiated a Strategic Development Plan to re-envision how the campus and its relationships with Gainesville and Alachua County might evolve over the next 50 years.
Thanks to UF Planning, Design & Construction, we're pleased to share this update on construction projects underway and completed since April 2013.
Construction projects currently underway:
Career Resource Center, Spring 2018
Among its various career support activities, the center hosts numerous career fairs throughout each year, attracting diverse employers from around the country to recruit in Gainesville.
Katie Seashole Pressly Softball Stadium Renovation and Expansion, Spring 2019
Home of UF's National Champion Softball team, this softball stadium renovation will expand seating to approximately 2,800 including almost 2,300 chair backs as well as updated amenities
Institute of Black Culture and Institute of Hispanic-Latino Cultures, spring 2019
This project will replace the institutes' existing houses with modern facilities to support their programs and increasing memberships. The new structures are located on University Avenue where the former institute buildings stood, and will continue to be a prominent face of the University.
Wertheim Laboratory for Engineering Excellence, Summer 2019
The College of Engineering's new "front door" will enhance interdisciplinary research, innovation education and leadership training and skills to produce the engineer of the 21st century in a new facility adjacent to other engineering buildings in the campus core.
P.K. Yonge Developmental Research School Phase II, Summer 2019
The new facility will include 21st century K-12 design concepts utilizing "flexible neighborhoods" anchored by highly visible Science, Technology, Engineering and Mathematics (STEM) labs allowing for exploratory learning experiences.
Norman Hall Remodeling and Conference Center Addition, Fall 2019
The College of Education's historic Norman Hall (1932) will receive a significant rehabilitation to more than 80,000 square feet of classroom, office, library and lecture hall space in addition to renovation of its two-story library in an adjacent building. The project will also add a 5,000 sf multipurpose facility for hosting larger seminars and special events.
New UF Gator Baseball Stadium, Late 2019
The new stadium will have a capacity of approximately 10,000 including close to 5,000 chair back seats and premium seating options.
Data Science and Information Technology Building, 2020
The Data Science and Information Technology Building will house faculty and researchers from the College of Medicine, College of Pharmacy and the Herbert Wertheim College of Engineering who specialize in analyzing massive amounts of data to tackle complicated problems. The facility will also be the new home of UF Informatics Institute.
Projects completed: