Anticipation grows as campus prepares for reopening of institutes
Over the past several months, members of the UF community have watched as two new uniquely beautiful buildings nestled among area businesses and campus centers have emerged on University Avenue.  On Nov. 16 and 17, UF will host ribbon-cutting ceremonies for both the Institute of Black Culture and the Institute of Hispanic-Latino Culture — better known as the IBC and La Casita.
The opening of the new buildings will celebrate the culmination of more than two years of work to create spaces that will better meet student needs while preserving each institute's cultural history. The locations at 1510 and 1504 W. University Ave. will host programming and opportunities to facilitate student learning and enhance students' experience at UF.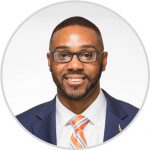 Will Atkins, associate dean of students and senior director of UF Multicultural & Diversity Affairs (MCDA), has been instrumental in ensuring student and alumni voices were heard and needs were reflected throughout the buildings' reconstruction. A UF alumnus, Atkins returned to the university in 2014 to work with the Machen Florida Opportunity Scholars Program. Prior to returning to UF in a professional role, Atkins completed a master's degree in higher education at the University of Michigan and worked in student affairs there as well as Miami University of Ohio. In October of 2016, he was named interim senior director of UF MCDA before assuming the permanent role in April of 2017, just in time to serve as project owner of the institutes' reconstruction.
In his current role, Atkins oversees all MCDA efforts — including diversity and inclusion education, the university's multicultural mentor program, graduation celebrations and early arrival programs. Throughout the past two years, he has served as a liaison among the university's administration and construction entities to ensure effective communication with stakeholders and transparency, facilitating conversations and communicating out, as needed.
We sat down with Will Atkins to learn more about the history and significance of the institutes as well as what the university can look forward to with their reopening.
---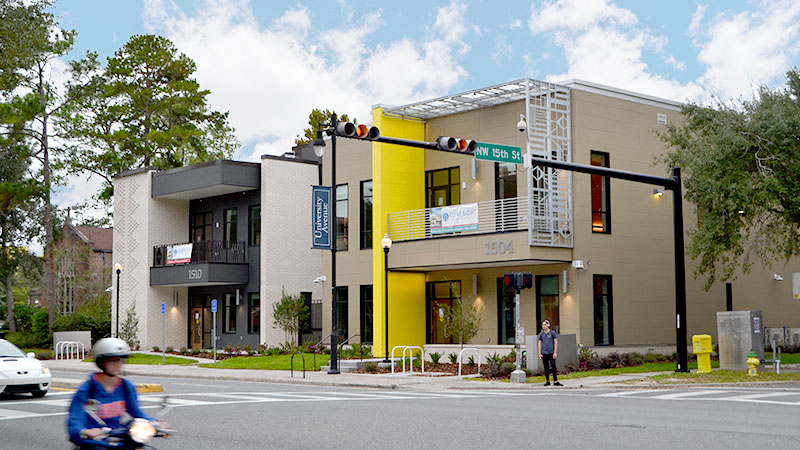 Can you give us a little background about the institutes?
On April 15, 1971 — the day known as "Black Thursday" — Black students at UF had a list of demands that were presented to the university. They wanted more faculty and staff who looked like them, increased Black student enrollment and an Institute for Black Culture with library facilities. When they weren't heard, protests and demonstrations were held; 67 students were arrested and suspended or put on academic probation, and 123 students withdrew from UF.
So one of the properties the university owned — 1510 University Ave. — was repurposed to become the Institute of Black Culture.  And in 1994, through several conversations with faculty and staff and due to the increase in enrollment of Latino students, faculty and staff came together to advocate on behalf of the university for a Latino cultural center. So the building right next door, 1504 West University Ave., was made into the Institute for Latino and Hispanic Cultures.
Why was the decision was made to rebuild?
Both original buildings were actually built in the 1920s and made out of wood. With the Florida environment and climate as well as upkeep, it was time in 2015-16 to look at what we should do to make sure the institutes were maintained beyond a few repairs. They also both needed to be brought up to compliance with ADA requirements.
What are some of the hopes or visions that you and others have for these new spaces?
The MCDA staff over the past couple of years has really done some outstanding work in engaging with our students and supporting student success through various initiatives. Many of these initiatives have been focused in the areas of academics, community engagement, community development, diversity and inclusion education, advocacy and celebrations.  Our hope is that the programs just continue to grow and expand, that we're able to provide a space and place for students to come together and to learn with each other; to connect with faculty, staff, alumni and peers and find community; and to find place of education, advocacy and celebration.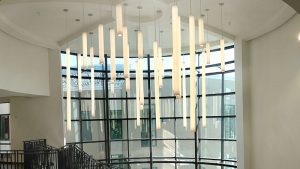 What can we look forward to seeing inside the new buildings?
The two new facilities are each specially designed based on the feedback from the students, stakeholders, faculty, staff and alumni. The buildings will each have a living room area, a workspace for our student ambassadors, a reception space, administrative offices, some conference rooms and some large programming spaces.  But there are some special components for each one.
La Casita's main feature is going to be a courtyard. That was something students said they wanted — an outdoor space that was covered in the event of rain, but was also flexible. For the IBC, students said they wanted to have a grand entrance when you walk in, to have something that represented a beacon of light or a beacon of hope. So when you look at the IBC, there's a large, glass structure that we call the beacon with a spiral staircase that has really beautiful lighting and is very open.
Why are spaces like this important for our students?
I think these institutes are important because they really foster and facilitate a sense of belonging, a sense of presence. They advocate for academic success, but also education across campus about the importance and significance of our diversity on campus. These two institutes will also champion resource availability and connection for students as well as education about difference and education about cultures within each community, which are very diverse in and of themselves.
They also build community, bringing people together for a sense of strength and belonging. I was actually just talking to someone about how important it is for that to happen because students may come in and they may feel some isolation — may not know how to find connection. So while UF is already an academically rigorous institution, to have that academic rigor and to also feel lonely is really hard for students. Our hope is that we help support students in the academic environment while also creating space for them to find community and find support. That, to me, is really why these institutes are so pivotal.
They also have a deep historical significance to the institution. So from the 1970s to the 1990s to today, it bridges generations. It brings generations together so for students who were here in the 1960s, '70s, '80s, '90s and present — it's a common ground. It's a place where you can come together and connect with past, present and future generations of Gators.
Will there be artifacts from the previous buildings?
Yes, artifacts, news clippings from some of the protests, demonstrations and key events. There will be history display walls in both buildings with different timelines and key figures and events that influenced or impacted both communities. So it will be vibrant and also talk about history.
What are some of the events that will be held initially in the buildings?
We're working with the Samuel Proctor Oral History program to do a documentary screening that students put together on the IBC and La Casita – so some of the historical education. We have student organizations putting on events that we'll publicize. And then, in the days after, we'll also have programming and encourage people to stop by and actually get connected at the IBC and La Casita.
It's going to be fun to see how students engage with the space – especially some of our first-, second- and third-year students who have never set foot in the buildings. They're so excited and we're looking forward to providing resources and experiences for them. I think in this first year, it's going to be very celebratory, very positive — lots of excitement and enthusiasm.
In this space of rebuilding cultural centers, I've of course done a bit of research on other institutions and I think this is something UF should definitely be proud of. This helps us to become a national model for how we support our students across campus. I think it's something to be proud of and something we're looking forward to see grow and evolve over the years.
---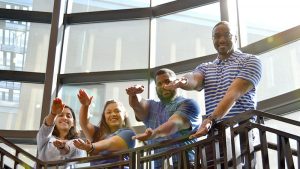 The Institute of Black Culture Ribbon Cutting Ceremony and Reception will be held Saturday, Nov. 16, from 11 to 1 p.m. The event will begin on the lawn in front of Library West (between Library West and University Ave.) before moving to the IBC for the receptions and tours of the new building.
The Institute of Hispanic-Latino Cultures Ribbon Cutting Ceremony and Reception will be held Sunday, Nov. 17, from 11 to 1 p.m. The event will begin on the lawn in front of Library West (between Library West and University Ave.) before moving to La Casita for the receptions and tours of the new building.
To learn more about the IBC and La Casita as well as how you can support them, visit https://institutes.multicultural.ufl.edu. You can also find more information on upcoming events by following the MCDA @mcdauf and Will Atkins @WillAtkinsUF on social media.