Bill James: The guardian of Lake Wauburg
From sailing, boating and stand-up paddleboarding to mountain biking and climbing, Lake Wauburg is an adventurer's dream. Bill James, assistant director for Parks and Outdoor Recreation at RecSports, oversees the lake and its activities, making sure all visitors stay safe and have fun. 
Once nicknamed "Captain Bill" by former Gators head coach Steve Spurrier, James – who is also a lifeguard and swimming instructor – is getting ready to retire after 23 years of service to his alma mater.
UF at Work recently caught up with James for a tour of Lake Wauburg's North and South shores, including its challenge courses and climbing wall. Learn more about the devoted Gator in this Q&A.
________
What was one of the first things you started working on when you returned to UF in 1996?
One of the things we want to do in any life is to have a good foundation. When I got here, we needed to make a good foundation. We had the water, sewer and electric at Lake Wauburg all redone. That's not necessarily an item that one can feel excited about, but in order to be able to have the fun things, we needed to have a good foundation first. The happy things that came along after included adding a pavilion and renovating the lodge, kitchen and restrooms.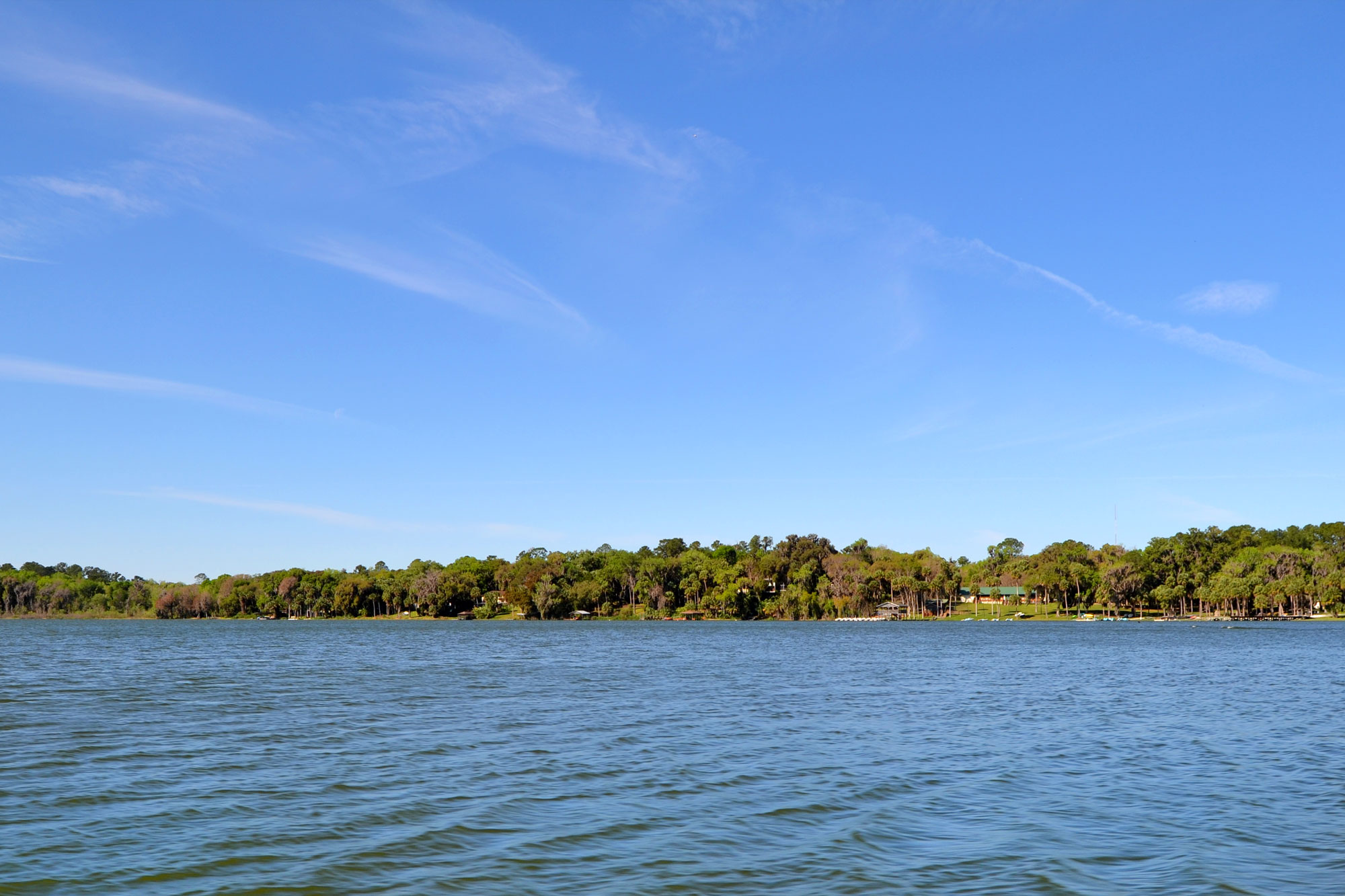 What have you focused on at Lake Wauburg?
I start my staff meetings with an emphasis on health and safety; those are the two major things that I hold myself and the staff accountable for. Everything must be safe and everything must be healthy.
We're also in charge of the cleanliness of the park — everything from the Cypress Lodge and the restrooms to the boats, paddleboards and other recreational items.
I am primarily based on the North Shore, where the office is. Michelle Langkop, coordinator for Parks and Outdoor Recreation, is based on the South Shore, where she manages the challenge courses and climbing wall. We have 50 to 60 student employees we oversee as well.
Can you talk about striking a balance between keeping Lake Wauburg natural and recreational?
The North Shore has 20 acres while the South Shore has 65 acres. Early on, we had a vision to keep things natural – the way people remember Lake Wauburg – but at the same time, we needed an upgrade. The lake is less natural than you would see over at Paynes Prairie State Park, for example, because we have a lot of grassy areas and field spaces for throwing Frisbees and just enjoying life. We also bring our own sand in. Most lakes in Florida are mucky, and this one naturally is too.
In March, students lie out on the hill and on the dock. They play yard games that they can check out, like corn hole, and bring coolers with food and drinks. There's a bus that runs to and from campus on Saturdays, which helps when you live in the dorms and don't have a car. You can still come out to the lake.
Can you talk about future plans for the lake?
The boathouse is slated to move. I would like to have all staff move from the end to the middle of the park so they can be more accessible and more ready to help the people who come to visit. I like to call them guests like they do at Disney and not patrons or customers. These are our guests; they come to our house and we treat them like guests. I think that's a great way to look at things. When somebody comes into your facility, they're like friends who come over to your house.
Are there any recent achievements of which you're especially proud?
One of the things that I've been working on for the past five years is a project that is really close to my heart. About a month ago, we installed a kayak and canoe launch for the disabled. Years ago, a student who was in a wheelchair visited the lake, and I physically transferred him from his wheelchair to a kayak. I thought that if we ever had a way for people to transfer themselves from a wheelchair to a kayak launch, it would be better. The new launch is what came out of that. So guests can now wheel their wheelchair to the end of a dock and then transfer themselves into a kayak or canoe.
One of the things that I never thought about before was something this student said to me. He said, "Bill, when I'm out in a kayak and I see another student on the lake, there's no chair." He said he really enjoyed that situation where the chair is not involved in the conversation, and I thought that that was wonderful.
When is Lake Wauburg's busiest season?
The busiest day of the year is the Saturday after spring break. I think it's because the students really don't want to go back to school yet; they want to have one more day. The busiest times are Saturdays and Sundays in the spring. We usually have 1,000 people on the North Shore and about 500 at the other shore. The yearly number of guests would be in the 60,000 to 70,000 range.
We have a lot for the students to do, and they don't have to pay anything because it's part of their activity and fee money. We're lucky to have those funds to help the students have fun. (Lake Wauburg admission and activities are free to UF faculty and staff as well; anyone with a Gator 1 card is able to bring up to four people with them for free.)
We have half as many guests in the winter than we have in the spring. And we have half as many students on campus during the summer, so we have a bit less then as well.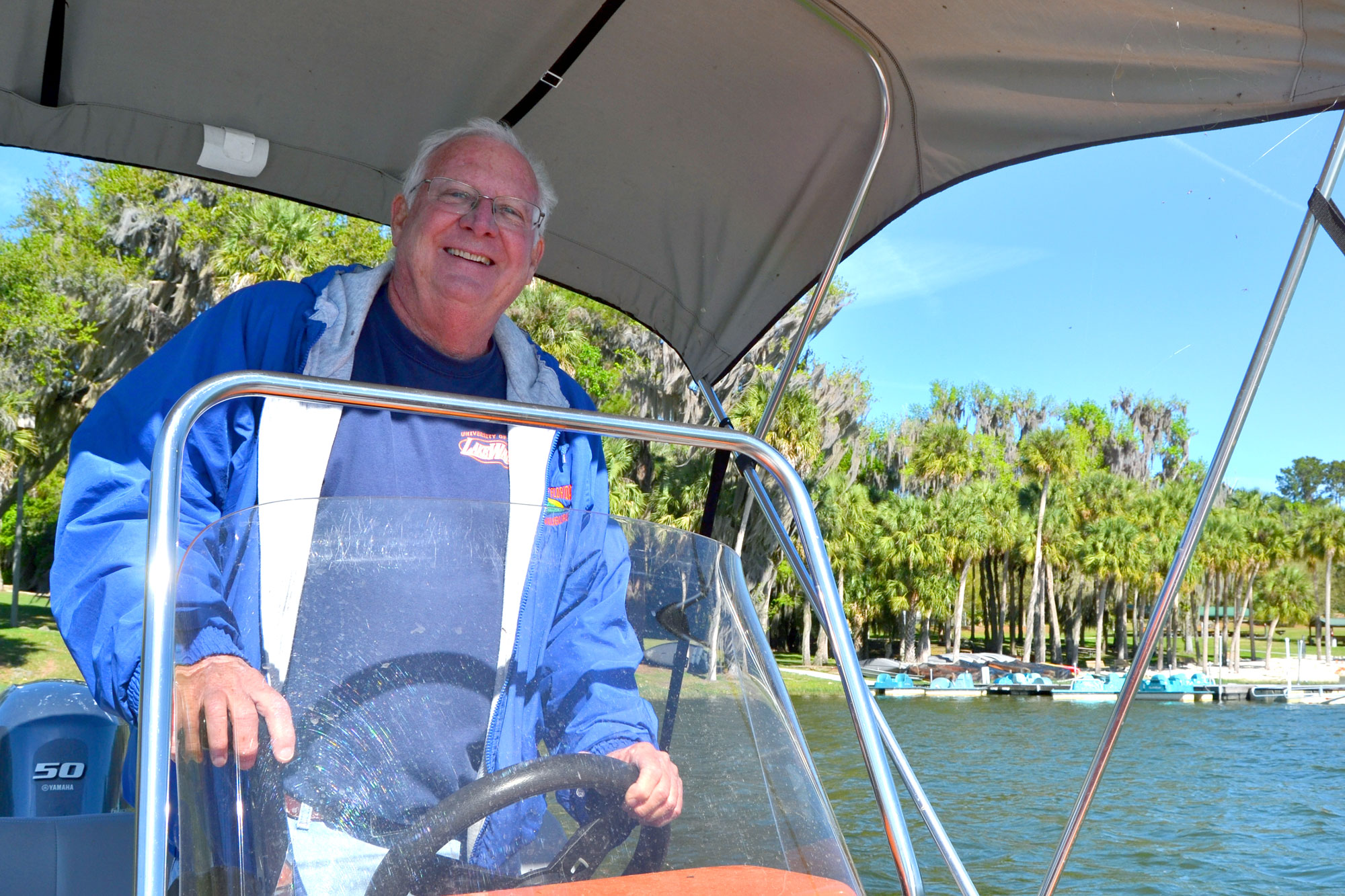 What brought you back to UF and Gainesville more than two decades ago?
I bleed orange and blue. I graduated from the University of Florida, where I received my bachelor's degree in recreation from the College of Health and Human Performance. When I left here, I was the aquatic director for the City of Gainesville, and when they did away with that job, I became the aquatic director for the city of Winter Haven.
I had a bunch of jobs in between – I went to Jacksonville and worked at a camp there – and when Lake City had an aquatic director opening, I applied. I felt like it was close to Gainesville and I went there with the idea that I could still visit Gainesville and go to football and basketball games. Then this job opened up. It worked out really well for me. I'm so happy I made that choice. To work at UF has been wonderful.
What is your favorite part of working at UF?
I think it's the small town feeling of Gainesville and student involvement that keep me young. I love working with and mentoring students – they're in a place in their life where they're learning so much. Mentoring students is something I've always felt comfortable with. I enjoy helping students understand how to get to work on time and how to work hard and that it will all come back to them in the end.
How did you decide you were ready to retire?
My whole life, I've felt like 65 was the time to retire. I'm 65 now so it's time. I don't think we're here on this earth forever, and I have a feeling that I have another calling in my life. I'm not sure exactly what it is yet. My work is never done here; I think I can still be a part of this place as far as an alumnus. And anybody who has a question about the lake – if somebody wants to know where pipes are underground, for instance – I may be able to help them out.
I'm also a lifeguard and swimming instructor. I've always thought that I could save people by being a lifeguard or teach them to save themselves as a swimming instructor, and I may continue with that.
Admission and activities at Lake Wauburg are free with a Gator 1 card. A Gator 1 card holder may bring up to four guests. To learn more about Lake Wauburg, visit recsports.ufl.edu.
On March 30, Lake Wauburg will host a steel drum band. Come out to the lake to relax, enjoy and "pretend you're in the islands," James said.