Bridging the gap between UF and Spanish-speaking communities throughout Florida
Since 2010, the population of Hispanics in Florida experienced one of the biggest population increases at over 1.4 million. The 2019 U.S. Census estimated that 26.4% of Florida's population — over 5.6 million — identified as Hispanic or Latino; and that 22.5% — over 4.8 million — spoke Spanish at home. This dramatic growth has created the need for programs that can adequately and inclusively serve this population.
In 2017, a group of UF/IFAS Extension agents seeking to address this issue created the Coalition of Florida Extension Educators for Latino Communities, or CAFE Latino; a grassroots organization with the goal to create science-based educational materials for the benefit of Spanish-speaking communities.
"CAFE Latino wasn't prompted by anything at either the state or regional level, but by local county agents," said John Diaz, Ph.D., UF/IFAS assistant professor and Extension specialist, and CAFE Latino president. "We had Extension agents from Hardee County, Osceola County and others — people on the ground directly seeing this as a need who couldn't wait for the administration to act, so they took the initiative and started the development of the organization."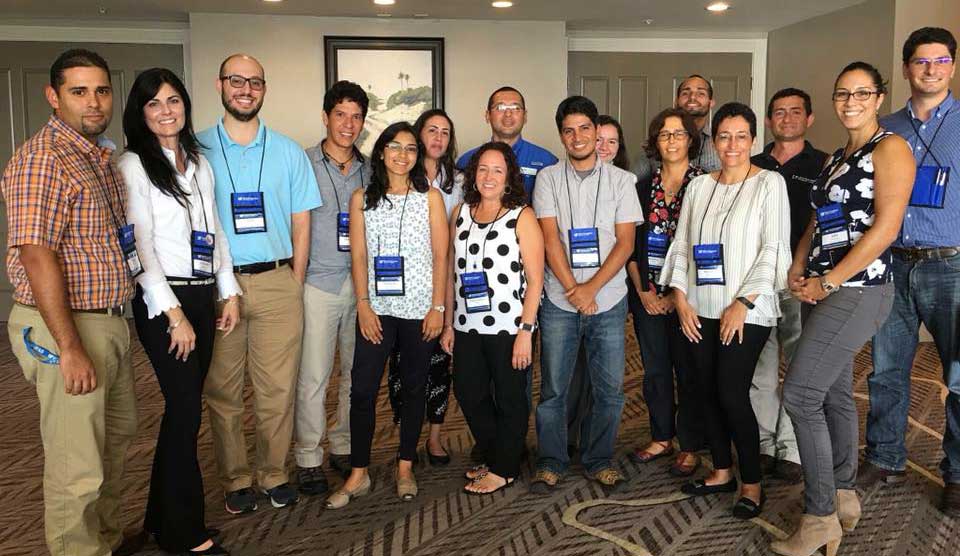 In order to understand CAFE Latino's work with Spanish-speaking communities, one must first understand what Extension is and how its agents work with local communities. Located in the UF Institute of Food and Agricultural Sciences, or UF/IFAS, Extension serves as a bridge between UF and communities across Florida. With offices in all 67 counties, Extension agents translate science-based publications from UF/IFAS researchers into layman's terms to disseminate the information across the communities they service.
Working on-the-ground alongside community partners, Extension agents assess the needs of the community and create educational resources and programming within six main areas — agriculture, horticulture, natural resources, family resources, 4-H youth development and SEA Grant.
"Agents have to serve the needs of the population," said Jonael Bosques, Hardee County Extension director and agricultural agent at UF/IFAS Extension. "One of the needs we have in Florida is the need for information in a way that the demographics of the community can absorb."
Through its programming, CAFE Latino aims to connect the Hispanic and Latino population in Florida with the resources, education and training provided by UF/IFAS Extension faculty located across Florida. All with the goal of promoting diversity, inclusion and equity of information in Florida's rural and urban areas.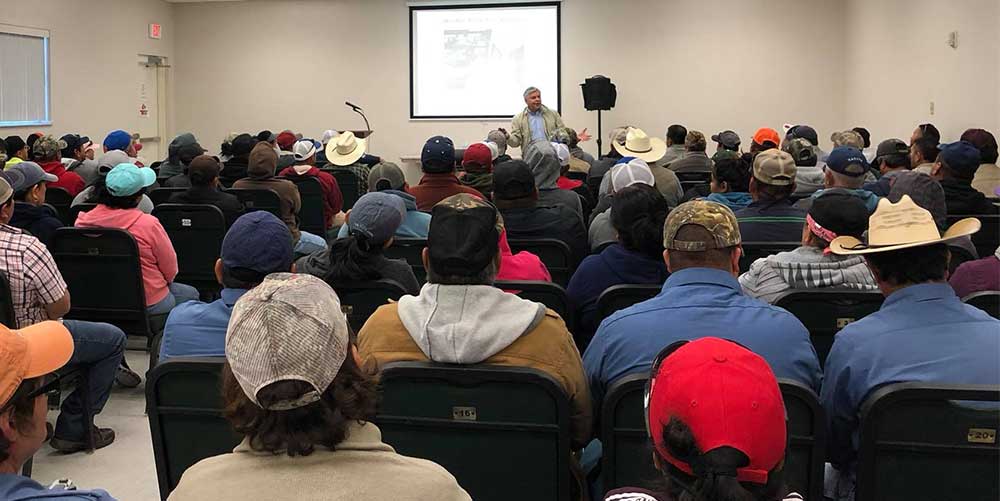 "Diversity and inclusion is an important part of Extension, because Extension was developed for people, and without meeting the needs of all people, we're really not doing what Extension needs to be doing," said Diaz.
The educational content, programs and outreach initiatives created by CAFE Latino help strengthen and increase the reach of UF/IFAS Extension offices beyond your traditional white, English-speaking population. CAFE Latino members also partner with individuals on the ground and local agencies to ensure that each program is tailored to meet the needs of the community.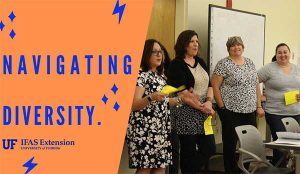 "When we first started, our program focus was on navigating cultural differences and understanding how to put together culturally responsive programs," recalls Diaz. "We wanted people to understand that we had to move beyond just translating content and go into developing relationships with these communities where they can see themselves in the materials and examples."
Throughout the years, the footprint of CAFE Latino has expanded beyond Florida, creating partnerships with national and international universities, as well as organizations such as the U.S. Department of Agriculture, Farm Credit and the Natural Resources Conservation Service.
While the pandemic brought to a halt much of CAFE Latino's traditional programming, its members have adjusted their work to incorporate digital tools that help deliver educational resources to their communities.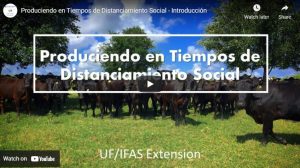 On April 16, 2020, Bosques along with UF/IFAS Hillsborough County Extension agent Francisco Rivera launched a YouTube series called Produciendo en Tiempos de Distanciamiento Social, or Farming in Times of Social Distancing. The videos are geared towards Spanish-speaking farmers and provide alternative farming resources they can implement during the pandemic.
The popularity of the videos and the need for more resources prompted Bosques and Rivera to launch another series called Produciendo con Ciencia, or Farming with Science. Episodes provide science-based educational videos and bring together UF/IFAS Extension agents, College of Veterinary Medicine experts, and national and international experts. To make the content even more accessible, Bosques recently began uploading the interviews to Spotify.
For the past 18 months, CAFE Latino members have also partnered with UF Health to deliver much needed COVID-19 safety information to Spanish-speaking communities across Florida.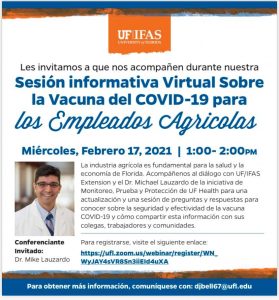 "When COVID first started, we were at the forefront in providing information in Spanish for COVID mitigation and masking," said Diaz. "Then once vaccinations came out, we were part of the team that helped disseminate that information. We've worked closely with UF Health and Michael Lauzardo's office to disseminate CDC and UF messages to communities across Florida."
CAFE Latino's COVID-19 programming and resources did not go unnoticed. In September 2020, the Extension Professionals Association of Florida awarded CAFE Latino the James App Award for Outstanding Extension Team. The award recognizes their efforts to provide COVID-19 Spanish-related content to an underrepresented community. Bosques was also awarded the 2021 Respect Award, which honors Extension educators for promoting diversity, equity and inclusion.
Moving forward, Bosques sees the organization expanding and partnering with more Extension agents to help them reach the Spanish-speaking population in their respective counties.
"If you have an Extension office out there that has no way to communicate with their Spanish-speaking community, the goal is to have faculty reach out to us and we can support them in their efforts," said Bosques. "This way we can strengthen our footprint in the state of Florida."
For Diaz, the services that CAFE Latino provides are going to be in greater demand, as the Hispanic population in Florida continues to grow.
"Florida is like the gateway from Latin America, so we have to have something in place as more Spanish-speakers call Florida home," said Diaz. "We'll continue to advocate for the needs of our Spanish-speaking communities and, hopefully, our momentum will be matched by the momentum of the administration to increase the availability of resources in a systematic way."
---
If you're interested in partnering with CAFE Latino, contact John Diaz at john.diaz@ufl.edu.
---
Looking for ways to get connected at UF or in our community? Check out the Get Connected directory to find kindred spirits and opportunities to explore new interests.