Nurturing Pride in community with LGBTQ+ affinity groups
As part of LGBTQ+ History Month, community organizations throughout Gainesville come together in October to celebrate Gainesville Pride. For the past two years, however, the Pride parade and other in person events have been cancelled due to the COVID-19 pandemic. But local organizations — along with UF's Queer Nation and the Presidential LGBTQ+ Advisory Committee, or LPAC — are still working to celebrate pride within our community and provide much needed resources to LGBTQ+ faculty, staff and students.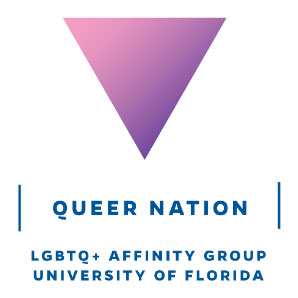 "We are all working toward a sense of community, a sense that you matter, that you belong here — and we are doing everything that we can to make sure you feel that," said Tiffany Richards, LGBTQ+ Affairs program director, co-chair of Queer Nation and LPAC member.
It is that sense of belonging that is imperative for organizations like Queer Nation and LPAC, who work with faculty, staff and students to address concerns, advocate for LGBTQ+ issues and help guide UF policy to foster a more inclusive campus.
In 1993, UF conducted a Quality of Life survey of LGBTQ+ faculty, staff and students, followed by a separate student survey in 2002. Both surveys found that some employees and students alike had experienced hostility and harassment on campus. Based on this feedback — and with the continued advocacy of UF groups, including LPAC — UF added 'sexual orientation' to its non-discrimination policy in 2003 and 'gender identity and expression' in 2011.
A broader campus-wide climate survey conducted in the fall of 2015 led to UF hiring its first chief diversity officer and the formation of a Diversity and Inclusion Liaisons group, as well as the Gators Together professional development program that addresses unconscious and implicit bias, micro-aggressions and affirmations, bullying and civility.
Upcoming Events & Training
Screening of "Behind Closed Doors: The Dark Legacy of the Johns Committee"

Oct. 21 at 7 p.m.



Pride at Prairie Creek
Oct. 24 at noon

LGBTQ+ Inclusive Gators Training
Nov. 10 at 9 a.m.

In June 2020 — to help guide their strategic priorities and upcoming initiatives — Queer Nation, Pride Student Union and LGBTQ+ Affairs conducted an informal survey of self-identified LGBTQ+ faculty, staff and students.
"We wanted to gauge the needs of our community and understand how we could provide better support," said Cecilia Luna, Student Health Care Center communications specialist, co-chair of Queer Nation and LPAC member.
While UF continuously works to address bias and harassment through policy, education and resources, there are still faculty, staff and students who feel unsafe being out as an LGBTQ+ individual in their departments or may feel they can't safely advocate for their own needs. In these situations, affinity groups like Queer Nation and LPAC can step up to advocate for their community.
"We want to make sure that folks know that, regardless of where they are on campus, they have a community they can rely on," said Richards. "We want folks to reach out to us and let us know what's happening in their areas. There are people here they can connect to, who can elevate their voice and concerns."
All UF faculty, staff and graduate students are welcome to join Queer Nation by completing a membership form. As part of its mission, the group aims to represent, retain, recruit, build community and promote visibility of LGBTQ+ faculty and staff at UF.
The Presidential LGBTQ+ Advisory Committee, formerly known as the Lesbian, Gay, Bisexual Concerns Committee, was appointed in 1992. Faculty, staff and students may join the committee by emailing lgbtq-committee@ufl.edu. Throughout the years, the committee has made recommendations to UF's provost and president regarding the needs of the LGBTQ+ community at UF, policy revisions, educational programming and more.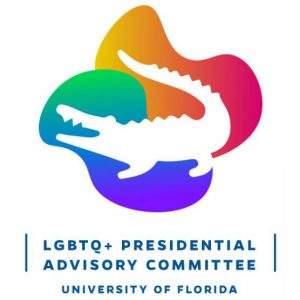 "LPAC brings people together from different parts of campus, which helps us understand the climate around UF," said Allyson Haskell, UFIT senior instructional designer and chair of LPAC. "Members review UF policies and look for areas where we want to recommend changes to help make campus more inclusive for LGBTQ+ folks."
A recent initiative, launched in April 2021, is the LGBTQ+ Inclusive Gators training course, which aims to foster an inclusive and equitable work environment by highlighting the diversity within the UF community. The course was created by Richards and Luna, with assistance from UFHR Training and Organizational Development Instructional Designer Brandon Telg.
"The course gives folks access to terminology, to the language of inclusion, making sure they can distinguish between sexual orientation, gender identity and expression," said Richards. "We look at intersectionality, highlight the differences of power between positions and tie it all to UF policies."
Interested participants may enroll in the next session scheduled for Nov. 10 at 9 a.m.
In addition to Queer Nation and LPAC at UF, Gainesville area LGBTQ+ organizations are also available to support UF's faculty, staff and students.
"There is pride in fostering community relationships and creating deeper ties with community partners," said Richards. "As we think of our relationship with the community that we are in and that we serve, it's important for us to have a presence and to contribute in whatever ways we can as an extension of who we are at UF, but also as a reflection of our commitment to the community that we are a part of."
Faculty, staff and students are encouraged to join, participate and volunteer with the local organizations that help put together Gainesville Pride. Three family-friendly organizations that welcome new members and volunteers include the following:
The Pride Community Center of North Central Florida offers safe spaces, resources, services and events to foster and enhance the well-being and visibility of LGBTQ+ people in North Central Florida.
TranQuility's mission is to improve the quality of lives of transgender and gender non-conforming individuals in North Central Florida.
Unspoken Treasure Society aims to inspire, empower, uplift and create platforms to give a voice to voiceless transgender and gender non-conforming individuals.
Employees who live outside of the Gainesville area may find additional LGBTQ+ resources and organizations listed below.
UF alumni are also encouraged to join UF's Association of LGBTQ+ Alumni, which works to support and connect UF's LGBTQ+ alumni, students and allies.
While the past 18 months have made it challenging to foster a sense of community and belonging, affinity groups are working hard to bridge that divide and always welcome new members.
"I want people to know that we are here to help them and that we care," said Richards. "That what we do is a labor of love where we try to use our different areas on campus to advocate for the LGBTQ+ community at UF."
---
LGBTQ+ organizations and resources:
---
Looking for ways to get connected at UF or in our community? Check out the Get Connected directory to find kindred spirits and opportunities to explore new interests.