Turning the page to a new chapter – Brandon Telg on how the EEP helped him transform his life, one story at a time
We recently shared how UF's Employee Education Program (EEP) benefit has helped many employees advance their careers. For Brandon Telg, an instructional designer at UFHR Training & Organizational Development (TOD), the EEP not only benefitted him professionally but also transformed his life.
"The EEP put me on a path that I am still walking today," said Telg. "It changed my life in ways that I can't even fully express. I can look back and say the program was the thing that kickstarted more incredible experiences than I ever dreamed were possible."
Telg started his career at UF as an educational resource manager with the College of Dentistry. At that time, he held a bachelor's degree in stage management for theater and was searching for professional development opportunities that would expand his marketability in the workforce.
"I knew that wasn't the end of the story for me — and I saw myself working at UF for a while — so I asked my supervisor what opportunities there were for training," recounted Telg. "I was told about the Supervisory Challenge Course – which I took – and about the Employee Education Program. It sounded like too good of an offer to not see it through – and so I did!"
The decision led Telg to apply for the master's degree in leadership development through the College of Agricultural and Life Sciences. While the degree benefitted Telg professionally, the first class he attended on interpersonal leadership opened a new chapter in his life.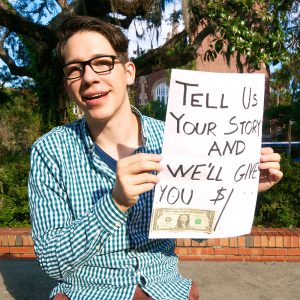 "The professor had us share our story in class," said Telg. "This experience was transformative for me – it was beyond cathartic. I was in a bad place personally for a number of reasons, and writing and sharing my story in a safe and supportive environment taught me that I am not my worst moments. It took me outside of my experience and allowed me to look at my life in that big picture kind of way."
It was this initial dive into storytelling that became the catalyst in Telg's professional and personal life. As part of the final project, Telg and classmate Jaron Jones set up camp in Turlington Plaza with a handwritten sign that read 'tell us your story and we'll give you a dollar.'
For Telg, this experience was empowering and led to him and Jones taking the lessons they learned into the Gainesville community. Together, they created Self Narrate, a 501(c)3 nonprofit organization that seeks to empower marginalized and at-risk individuals by teaching them to write their stories and own their experiences.
"Looking back on my story, one thing the EEP taught me is that you have no idea what opportunities will come your way when you are pursuing something," said Telg. "What you think you'll be doing in five years from now, probably isn't close to what is possible for you when you start moving down a path of self-improvement."
And as Telg moved forward with Self Narrate, several doors opened around him. For example, his storytelling work led him to connect with Ann Christiano, director of the Center for Public Interest Communications at the UF College of Journalism and Communications. At that time, Christiano was looking for someone to help run the Changeville Music Festival.
"She knew my work from Self Narrate," said Telg, "and I mentioned that I had an event and stage management background — so she offered me the position of co-director of the Changeville Music Festival. That experience opened doors to do a bunch of other things in the music community — like now, I'm an artist manager for a musician that I've been a fan of for years. I also run a small indie-label and a music nonprofit here in Gainesville. And all of these stem from the connection I made with Ann, which wouldn't have happened without Self Narrate, which wouldn't have happened without the EEP program!"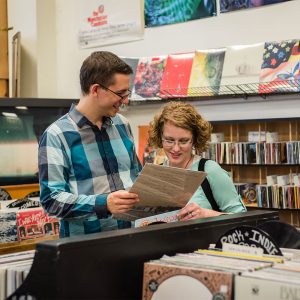 And as Telg's professional growth continued to open doors for him, it was another connection he made through Self Narrate that would impact his personal life.
"I was doing storytelling workshops, and an occupational therapist in the area invited me to speak at a conference," recalled Telg. "It was out of town and, as I was waiting to speak, someone came up to me who was also from Gainesville. She introduced herself and mentioned the community work she was doing. And I thought it was amazing and that we should find a way to collaborate. When we got back to Gainesville, we met up again but then a real connection happened. Fast forward a few years, and she and I are married and have adopted a child together!"
While Telg's journey is already impressive, the skills he gained through the EEP opened one more professional door for him. As he continued his work with Self Narrate, Telg learned how to develop training materials. It is this experience that helped him secure the position of TOD instructional designer.
"I now find myself on the team that runs the programs that changed my life, and that is a huge gift," said Telg. "I don't take that lightly. I find it very meaningful and a joy in my life to be able to give the same experiences that I had to other people."
Throughout his journey, Telg recognizes he was fortunate to have the opportunity to aim higher at a professional and academic level. He also encourages others to take that step and use the EEP to expand their professional skills.
"When we talk about benefits, the EEP is arguably second maybe to only health insurance," said Telg. "Continuing education is something that can change your life in ways that you have no idea of the potential. So, if you are able to take advantage of the EEP program — just do it. Even if you don't feel like you can finish an entire program, start it. You have nothing to lose, but you have everything to gain."