U.S. veterans bring unique qualities to UF community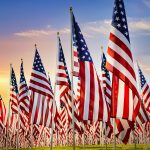 Observed annually on Nov. 11, Veterans Day is a federal holiday that honors all veterans who served or are still serving in the United States Armed Forces. The holiday originated at the end of World War I, when an armistice was signed on Nov. 11, 1918. On Nov. 11 of the following year, then President Woodrow Wilson proclaimed the first Armistice Day — now known as Veterans Day.
Currently, there are approximately 18.5 million men and women veterans in the United States — roughly 7% of the civilian population over the age of 18. Of those veterans, the Department of Labor estimates 50% are in the labor force.
The University of Florida is home to 644 veterans who are also UF employees. Having honed their skills in the military, these veterans bring to the table unique and diversified qualities that benefit the UF community in many ways. Recently, UF was named one of America's Best Employers for Veterans by Forbes. 
"Veterans add a tremendous value to the workplace," said Melissa Curry, Interim Vice President for Human Resources. "We are incredibly lucky to have these extraordinary men and women bring their talents and expertise to the University of Florida, and are grateful for their service in the United States Armed Forces."
To keep this momentum going and further capitalize on this untapped talent, UF offers various resources to assist departments in the hiring process.
"There is training for hiring managers to help them understand a veteran's military service. What is clear on a resume to a service member might be confusing to a civilian, so, this training gives managers the tools needed to understand military jargon," said Sean Tate, UFHR employee relations specialist. Tate himself is a veteran, having served in the Army as a combat medic with the rank of Sergeant before being honorably discharged in 2018.
Faculty and staff that are part of the hiring process are encouraged to register for the Connecting with Veterans – Discovering Talent workshop to learn ways to identify and tap into veteran applicant talent while improving the veteran interviewing and hiring experience.
"Two of the most important things you will get from a veteran are a dedication to the job and a heightened sense of maturity," said Tate.
To further increase the applicant pool of veterans, UF also works with a representative from CareerSource North Central Florida to connect with and refer local veterans to open positions at UF. In addition, there are resources available for veterans on the UF Jobs website to help them better position themselves during the application process. UFHR Talent, Acquisition and Onboarding representatives are also available to advise departments and veteran applicants in the hiring process.
Beyond employment resources, Gainesville also offers veterans living in or moving to the are a variety of resources to help them find a community they can rely on. The Alachua County Veteran Services Office has trained counselors to help veterans navigate the complex system of veteran's benefits. The Gainesville Vet Center offers counseling, referrals and a place to connect with other veterans in the area. The Malcom Randall VA Medical Center provides primary care and specialty health services for veterans. UF student veterans can also find resources and a community with the Collegiate Veterans Success Center.