Celebrate the Gathering of Nations with these delicious recipes
Held annually on the fourth weekend in April, the Gathering of Nations is considered the largest North American powwow, with over 500 tribes from Canada and the United States coming together to celebrate and share their culture. Two popular recipes that are prepared year-round are mutton stew and frybread.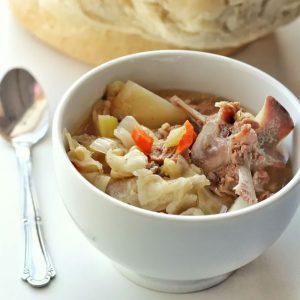 Try this mutton stew recipe, created by The Fancy Navajo
Ingredients:
8-10 cups of water or vegetable broth
2.5 lbs of mutton backbone or 2lbs of cubed mutton stew meat
3 large carrots diced
3 medium russet potatoes diced
4 celery stalks diced
1 large onion diced
Half a cabbage diced
1 cup of fresh corn kernels
Seasonings: ½ tablespoon Garlic and Salt, and ½ teaspoon Pepper
Option: Diced Jalapeno
Instructions:
In a large crockpot add broth or water and season with garlic salt and pepper.
Add in meat
Add in chopped vegetables
Cook on high in a crockpot for 4-6 hours or until meat is tender and falling off the bone
Try this frybread recipe, created by Navajo Chef Freddie Bitsoie
Ingredients:
4 cups all-purpose flour
2 tablespoons baking powder
2 teaspoons salt
2-4 cups warm to very warm water
4 cups canola oil
Directions:
Combine all dry ingredients in medium mixing bowl and mix well.
Add about 3 cups of water and knead very well using hands or stand mixer.

The amount of water depends on local humidity, so if the dough needs more water, add accordingly.

Make sure the dough is smooth and soft. Cover, set aside, and allow the dough to rest.
Heat the oil to about 375° F in wide heavy-bottom pan.
Roll the dough out into four balls, and pat out flat (can use a rolling pin).
Carefully place one piece of dough into the hot oil. Once the edges of the dough are golden, turn the bread over and let it finish cooking.
Remove the bread to drain on paper towels.
Repeat with the remaining dough.