Choosing your health insurance plan: HMO vs. PPO vs. HDHP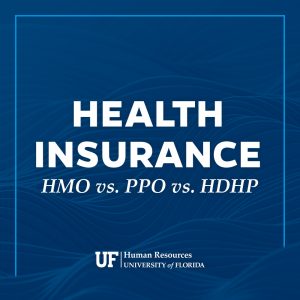 HMO, PPO, HDHP… oh my. If all the acronyms trip you up when it comes to choosing your healthcare plan this Open Enrollment, you're not alone. Here's some basic information that can help you decide when it comes to choosing your healthcare options.
What is an HMO?
A Health Maintenance Organization, or HMO, is one of the most popular healthcare plans. It's known for having no deductible — unlike the Preferred Provider Organizations, or PPOs — and its network of doctors and specialists that you must stick to as part of the plan. You'll select a primary care physician (PCP) who will coordinate all of your care and refer you to specialists when needed. You usually cannot go outside your network for care, and if you do, those charges will not be covered.
Who is an HMO right for?
You have a primary care physician in the network, and you'd like them to coordinate your care.
You don't need a lot of referrals or see many specialists and you're comfortable with seeing doctors only in your network.
You don't mind sacrificing the flexibility to choose your doctors so you can save on deductibles.
What is a PPO?
A Preferred Provider Organization does have deductibles, unlike the HMOs, but offers you flexibility to choose any doctor or specialist you need without the hassle of a strict network or referral system. You can also see providers outside of the network, but it will cost more than it would for an in-network provider. You may still need approval, called prior authorization, for costly procedures.
Who is a PPO right for?
You want the flexibility to see the doctors you want to who are out-of-network.
You don't want to have to get referrals from your PCP.
You have dependents, such as college-aged children, who live outside of the local network area.
What is an HDHP?
A high deductible health plan, or HDHP, has gained popularity in recent years as healthcare costs continue to rise and paying a larger deductible is one way to keep costs down. HDHPs can vary and operate as both HMO and PPO plans. In fact, you'll find high deductible plans in both HMOs and PPOs. The telltale sign of HDHPs is that you will have a larger deductible to meet than a standard deductible plan.
Deductibles of at least $1,400 for an individual or $2,800 for a family are the minimum deductibles you'll see in these plans. If you choose an HDHP, you'll want to make sure to set aside some money to meet that deductible or pair it with a Health Savings Account (HSA) to help cover the higher deductible cost. The State of Florida will make a contribution to your HSA to help offset the costs needed to reach the deductible, and you can also make your own contributions to the HSA. Once you reach your out-of-pocket minimum, your plan will pick up its share of your healthcare costs.
Who is an HDHP right for?
You have a true picture of your actual healthcare costs.
You'd rather save money on lower premiums and pay more out-of-pocket when you do need care.
You want to take advantage of contributing to a pre-tax Health Savings Account.
Choosing a UF health plan
Most benefits-eligible UF faculty and staff are eligible for health care plans administered by the State of Florida. Clinical faculty in the College of Medicine, graduate assistants, residents, postdoctoral associates and staff with qualified domestic partners are also eligible for GatorCare, UF and UF Health's sponsored healthcare plan. OPS employees who are full-time, meaning they are expected to work more than 30 hours per week, are only eligible for State of Florida benefits.
Making a healthcare insurance plan choice for 2022 is an important decision for you and your family. For additional resources and the brochures for the state plans, click here. For more information about GatorCare and to check your eligibility, click here, and select your appropriate employee classification.