How ALAP became a "life-changing" program for a UF leader
From enhancing his leadership skills to delving into and understanding UF's internal processes, College of Veterinary Medicine Executive Associate Dean and Professor Christopher Adin, DVM, says his participation in the Advanced Leadership for Academics and Professionals, or ALAP, program was life-changing.
Find out how the ALAP program gave Adin the tools and intercollegiate network needed to thrive in his leadership role.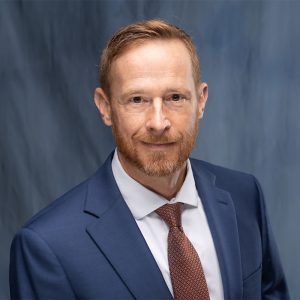 What motivated you to participate in the Advanced Leadership for Academics and Professionals program?
I had been in an academic faculty role for nearly 20 years but in 2018, I was selected to lead a large department in the College of Veterinary Medicine. As I took on my first major leadership role at UF, I felt significant anxiety about my own leadership skills, and my understanding of how to get things done within the UF system. In speaking with my colleagues at UF, the ALAP program was highly recommended as the way to prepare myself for the important tasks ahead. There are limited spots available in the program, which made me all the more appreciative when I was given the chance to receive this training.
How has the ALAP program impacted you at a professional and, if applicable, personal level?
It only took a few minutes of the first session to realize the value of the program. I was immediately surrounded by a cohort of people like me, who would serve as my intercollegiate support network as a leader at UF. I was challenged to become introspective and was given the skills to perform strategic planning and organizational change, with specific references to the infrastructure and mechanisms available to support my work at UF — something that would not have been available in a training performed by a leadership consulting firm outside of UF.
As I was assisted in developing specific goals and given the tools to achieve them, my confidence and competence as a leader improved exponentially. Personally, I found the instructors and guests to be important role models in many aspects of the training that was delivered, with UFHR Interim Assistant Vice President Bob Parks setting the bar at a level that is hard to even describe. His ability to bring out the best in people and to call out the best in our institution is truly inspirational.
Are there specific resources or connections you made during the program that you found most valuable and why?
The connections made in this course are incredibly valuable. Through careful selection of speakers, each attendee gets to meet the key players in the Provost's Office, HR, Research, Finance, etc., making a list of connections that I have tapped numerous times as I needed resources for situations that I have encountered as a department chair at UF. I have also bonded with the cohort of leaders that are available to serve as peer mentors and idea generators as we continue to interact.
How have you applied what you learned in this program in your role as a leader?
My department was faced with some unique challenges that required me to pursue an organizational change process to address serious well-being issues in clinical faculty. I was very fortunate to be able to immediately apply the strategic planning and organizational change process training that I received, and even consulted with Bob Parks on the details. Now, I am using that same training and experience at the college level as we are undertaking a strategic planning process for the next five years. The vision exercise was a particularly useful lesson that has allowed me to present my ideas to stakeholders in a much more compelling manner — a key need when our constituents are looking for inspiration and meaning in their work.
What would you tell a colleague who is considering applying to this program?
Based on its effect on my self-awareness, my perspective and my leadership skills, I would not hesitate to call this program "life-changing." The combination of incredibly gifted instructors, an excellent choice of focus areas for the lessons and UF-specific information make this program an absolute must for emerging leaders in our great university.
---
Applications for the 2023-24 Advanced Leadership for Academic and professionals program are being accepted now through May 5. Visit the ALAP website to learn more and apply.
Visit the Leadership at UF website to explore more programs and resources.