How the UF Academy helped a leader build a cross-campus network
When Associate Provost and Dean of the Graduate School Nicole Stedman, Ph.D., took on a leadership role for the Faculty Senate, she made it her mission to learn how the University of Florida is run and to get to know the people that keep the gears turning.
Find out how the UF Academy helped Stedman expand her understanding of UF while building a network of cross-campus leaders.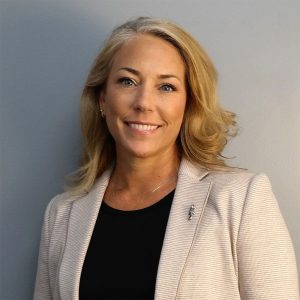 What motivated you to participate in the UF Academy program?
I applied for the UF Academy when I was starting my Faculty Senate Chair-Elect service and at that time, I knew a lot about UF from a faculty perspective but was looking to learn more. The Academy was the perfect opportunity for me to meet and hear from members of the Cabinet, professionals from all around campus and other faculty about their roles on campus. This was a mission critical time for me, as I was taking on a significant leadership role with the Faculty Senate, and I needed to learn and understand campus and the people keeping it running.
How has the UF Academy impacted you at a professional and, if applicable, personal level?
I think one of the biggest impacts that the Academy had on me, was that it introduced me to the individuals in key campus leadership roles and the passion that they had for the work they did to keep our campus operating. There are thousands of decisions made each day and I think for the most part faculty and staff do not get to see that complexity. Hearing the stories and strategies was invaluable. Personally, even though I am a leadership educator by discipline, taking time to think through my own leadership and growth was amazing. It truly set me up for ensuring that I take time to be reflective and intentional in my leadership.
Are there specific resources or connections you made during the program that you found most valuable and why?
This is a tough one, because they all were! I have reached back out to my peers from our class for help, I have continued — when I can — to attend the UFLN workshops, and it's been amazing to see the impact that programs like this make on a campus. I still remember walking through HiPerGator and being so impressed with this machine and then taking our group trip to Tallahassee, and I think it is those experiences — the ones that I would not have if not part of this program — that I found most valuable.
How have you applied what you learned in this program in your role as a leader?
One particular outcome was the ability to network. I often think about my role as a leader, certainly now in my current role, and that was one important skill that I felt the program pushed me to work on. Leaning into new situations, being willing to meet and talk and learn from others across campus, feeling comfortable calling on friends, or having them call me when they need assistance. It really has been building out my circle of colleagues and friends on campus.
What would you tell a colleague who is considering applying to this program?
I have encouraged others to apply for the UF Academy and have shared what I enjoyed and learned from the experience. I know there is no other place on campus that provides this sort of insider perspective of campus, really bringing people together to grow in their roles while appreciating all the work that has been done (and is being done) around campus. We all have our parts but taking time to learn about everyone else's is amazing — each and every person on campus is important. And while I knew this, the Academy solidified it, and I think that's what makes the Academy experience so valuable.
---
Applications for the 2023-24 UF Academic program are being accepted now through May 5. Visit the UF Academy website to learn more and apply.
Visit the Leadership at UF website to explore more programs and resources.