UF Academy spotlight: Dr. Leela Kumaran
Leela M. Kumaran, Ph.D., is a research coordinator at the College of Education School of Teaching & Learning. Over the years, she has held many roles at the College of Education; collaborating with departments, faculty and staff across the university. This collaborative work environment — and her motivation to understand how each unit operates with one another — led her to participate in the UF Academy program.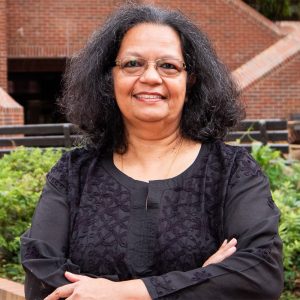 Read our spotlight to learn how the Academy helped Kumaran immerse herself in and learn about the institutional culture and governance of the University of Florida.
What motivated you to participate in the UF Academy program?
Although my job title is Research Coordinator, I have been involved in many roles over the years, including admission and course completion tracking; creating databases for student records; identity access management; faculty searches across the College of Education, some HR and others.
These are not necessarily silos and knowing how each operates helps reduce overlap and redundancy in processes. But I was curious and wanted to understand the big picture to be able to work smart, hence my participation in the UF Academy program.
How has the UF Academy impacted you at a professional and, if applicable, personal level?
I tend to work towards perfecting a task — with all its accompanying stress. My greatest satisfaction comes from ironing out issues to make a complicated process smooth but flexible. It makes me happy when people adopt some or all of the method. But, to do this I need to know the 'why' and the breadth of topics discussed in the Academy gave me a lot of insight.
I am often the go to for a variety of colleagues and college leaders, and I enjoy knowing that I can speak with knowledge and confidence. Through programs like the Academy, I also have contacts I can reach out to when needed.
Are there specific resources or connections you made during the program that you found most valuable and why?
Hearing about the vision of leaders from other units was inspiring. Very often the people who do the work don't know why it is being done in the first place. So, work becomes a drudge. If you know the why, work can be very satisfying and attention to detail a pleasure. I particularly enjoyed meeting and interacting with folks in research administration because that is what I primarily do. Having faces to names that come in email is definitely a plus.
My cohort partners were awesome and we do connect occasionally. I have a 'friend' I can reach out to in most units that I deal with thanks to the Academy.
I particularly enjoyed the exercise of assessing your strengths and weaknesses, and having your colleagues do the same. The wrap up with Tricia Bachus was insightful and very welcome.
How have you applied what you learned in this program in your role as a leader?
I think I work smarter and with more confidence. I did not attend the Academy with the intention of getting a promotion or changing jobs — although a promotion is always welcome! I love where I work and feel respected and heard. Holistic training only enhances that perception. I also now know people in other units that I can reach out to if I have a question.
What would you tell a colleague who is considering applying to this program?
Go to the program to figure out all the resources that are available at UF.
Everyone in that cohort works as hard as you do and you will make some great friends and connections.
There is a time commitment, so, plan ahead to attend every single session!
---
Applications for the 2023-24 UF Academy cohort open April 3 and run through May 5.
Visit the UF Academy website to learn more and apply.
Visit the Leadership at UF website to explore more programs and resources.