Explore your benefits options at the Benefits and Wellness Fair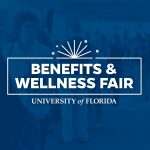 Have you made your benefits elections for 2023? The UFHR Benefits and Wellness Fair takes place today from 9 a.m. to 3 p.m. at the Champions Club in the Ben Hill Griffin Stadium. With more than 50 state and UF vendors present at the fair, faculty and staff can stop by to get the information they need to make their benefits elections.
The Student Health Care Center will also be present to administer flu and COVID-19 vaccines. Those getting a secondary or booster shot of the COVID-19 vaccine are encouraged to bring their vaccination card for verification.
Faculty and staff in need of transportation to the fair may explore available transportation methods on UF's Transportation and Parking Services website.