GBAS Institute returns after two-year hiatus
After a two-year hiatus due to the pandemic, the Gator Business Administrator Services, or GBAS, community of practice held their semi-annual institute on Nov. 18 with the theme "The Future of Work." Event organizers embraced the community at the core of GBAS by hosting a fully hybrid event, allowing for both in-person and virtual attendees.
The GBAS program is a professional development initiative with a bottom-up approach, designed to support business administrators working in colleges, departments and units to cultivate their skills and be more effective in their jobs. This professional support focuses on the job skills and expertise of employees in the areas of finance, research administration (both pre- and post-award), reporting and human resources.
Held every fall and spring, the GBAS Institute brings participants together to explore relevant topics, problem-solve challenges and share best practices with their peers. Throughout the pandemic — and in lieu of the institute — GBAS frequently hosted single topic events virtually to support its members. With the return of the Institute this year, GBAS is back and better than ever.  
GBAS community members were given the option to attend in-person at Emerson Alumni Hall or virtually through Zoom. The feedback received from the more than 250 attendees shows a positive experience for both in-person and online activities.
Some feedback received from participants include:
"Great to collaborate with virtual folks too. More inclusive!"
"I think the hybrid worked well. Thank you for considering those that work remotely."
"I liked that the remote people were able to attend, and that I could connect with people that were
also remote. Building a network of remote colleagues!"
In line with this year's theme, GBAS members explored how the workforce changed over the past two years. Throughout the event, attendees gathered in groups to analyze, learn and explore best practices to move forward in our new work environment, as the future is now.
The morning started with a greeting from Interim VP of Human Resources Melissa Curry and continued with a presentation on The Future of Work delivered by UFHR Training & Organizational Development Assistant Director Gwynn Cadwallader and Instructional Designer Nicole Harris.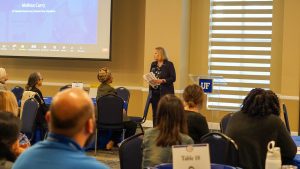 After lunch, attendees had the opportunity to attend one of three breakout sessions, listen from experts and network with fellow GBAS participants. Topics explored included ways to attract new talent in today's climate, wellness in the workplace and a panel on remote work. All of which had been woven into the day's theme.
The next GBAS Institute will be held in April 2023.
If you'd like to learn more about GBAS, how to become a member or would like to be added to the GBAS mailing list, please contact Training & Organizational Development Instructional Designer Shannon Powell via email at Shannon.powell@ufl.edu.